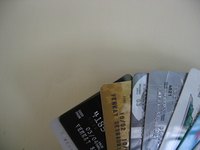 In today's difficult economic climate, many people are struggling under the weight of a massive amount of credit card debt. Dealing with this debt can sometimes seem impossible, especially once collections agencies begin to call. Understanding the procedures these agencies are bound to can help you to better navigate through the collections process.
Establishing Contact
The first thing a collections agency seeking to collect on credit card debt will attempt to do is get in contact with you. The agency initially will try to send a letter to your physical mailing address on file. If the bill collector fails to get in contact with you that way, it call the phone numbers you have listed. If you are not responding to phone calls, it will likely try to get in contact with you by calling your references and work numbers. It might also try to reach any family members for which they have numbers. The collector are restricted on where and when they can contact you, though. For example, the collector cannot continue to call your place of employment if it has been informed that your employer disapproves. Its calls to you are also limited to between 8 a.m. and 9 p.m.
Appropriate Information
Collections agencies are also restricted on the rhetorical tactics they may use to collect a debt. According to the Federal Trade Commission, collections agencies may not, "harass, oppress, or abuse you... [or] lie when collecting debts, such as falsely implying that you have committed a crime." In addition, the agencies must identify themselves and their purpose when on the phone. If you ask in writing for them to stop contacting you, they must oblige. Privacy restrictions also forbid them to convey information about your account to anyone you have not authorized to receive the information.
Options Available
If you are being contacted by a collections agency for credit card debt, there may be several avenues you can explore. One option is to simply pay off the debt immediately and try to rebuild your credit. Most of the time, if the debt has already gone to collections, this is not an option. Many collections agencies can set you up on a payment plan that will be easier for you to deliver on. In some cases, the collections agencies will negotiate a lower balance to repay, helping to bring down the amount that you need to repay.
However, one important thing to keep in mind is that the collections process will stay on your credit report for seven years from the date it was reported to the credit bureau, or in cases of civil court judgments, from the date of judgment, so you should not pay the debt back until you can afford to do so. Check your state laws to find out if any other regulations may apply, as these can vary from state to state.
With this in mind, it is important to keep a close eye on your credit report. If different collections agencies deal with your credit debt, every time a new agency purchases this debt, they will report to the credit bureau. One issue of credit card debt delinquency could end up reported several times. Usually you can dispute this with the credit bureau and attempt to have all the reporting with the exception of the initial report removed.