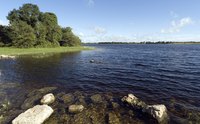 As the capital city of Michigan and one of the largest in the state, Lansing had its beginnings as swampland sold to unsuspecting investors. Designated as the state capital as somewhat of a political joke when it was just a tiny town of 20 residents, Lansing has grown into an important center for government, medical research and business. Within an hour's drive from the metropolis, rustic cabins provide lakeside relaxation to retreat from city life.
Thorndyke's Lakeside Cabins
Twenty five miles south of Lansing, the peaceful shores of Pine Lake are a nearby retreat from city life. Comfortably accommodating two to four people, each of Thorndyke's cabins includes private use of a boat, picnic table and fire pit. Fully renovated in 2007, the cabins are equipped with modern kitchenette, full bathroom, air conditioning and cable TV. Visitors can enjoy reeling in fish, meandering the lake in a paddle boat or lounging on a shady lawn.
Thorndyke's Lakeside Cabins 4949 Lakeside Drive Olivet, MI 49076 269-749-9774 http://thorndykescabins.com/
Duck Lake Cabin
Just 34 miles south of Lansing, this charming one bedroom cabin on Duck Lake's north shore welcomes you and your pet. Available by the week, this cozy cabin sleeps up to six people comfortably. Less than two miles from Duck Lake Country Club, tee up at the 18-hole course along the banks of the lake. Fish from the nearby dock for perch, bass or the elusive walleye in waters considered one of the state's top 50 fishing spots according to the Michigan Department of Natural Resources. . Duck Lake Cabin North Shore Drive Springport, MI 49284 517-861-7516
Just In Time Campground
One room cabins set on the north shore of Lake Earl offer gorgeous views and bountiful fishing just steps from your door. Sleeping up to five people, bunk beds and electricity provide the basics for your cabin-camping experience. Community areas include a sandy swimming beach, playground for the kids and adult bean bag court. Cabin guests provide their own linens and can shower at the nearby community center
Just In Time Campground 8421 E. Pierce Rd. Ithaca, Michigan 48847 989-875-2865 http://justintimecampground.net/