Irrigation and debridement procedures are an aspect of wound care. Irrigation is a precautionary method to help prevent the development of infections. Debridement is conducted to remove dead or unhealthy tissue in order to promote healing of a wound. Irrigation is often conducted prior to a debridement procedure to help promote the effectiveness of the removal of dead skin and tissue.
Irrigation
Irrigation flushes out wound debris by using instruments with pressurized fluids. To effectively clean a wound, pressure of the fluid must be no more than eight to 12 pounds per square inch. If the pressure exceeds 15 psi, bacteria can be pushed further into a patient's wound. Wounds irrigation must be conducted in a hygienic environment. Wash your hands prior to irrigation procedures. Use gloves, a gown and a mask to prevent the spraying of irrigation fluids and debris onto you.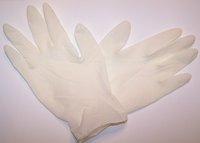 Irrigation Technique
According to the American Pediatric and Surgical Nurses Association, using saline as an effective cleaning agent for wound care is acceptable. Prior to irrigating the wound, the wound is gently cleansed with saline. Clean the wound from the center of the affected area, moving towards the outside of the wound. Don't use skin cleansers (soap) or antiseptics, as this can kill cells. Use a 30-to-35ml syringe or squeeze bottle with sterile saline. Apply steady pressure from the syringe or squeeze bottle and blot up any excess drainage with sterile gauze.
Debridement
Debridement should be conducted once tissue becomes blackened or yellowish, leathery and when the skin is easily sloughed off. The Mayo Clinic recognizes that using surgical debridement is one of the quickest methods to healing a wound. However, this method can be painful to the patient. Forceps and tweezers may also be used to help remove dead tissue and skin. General anesthesia should be administered prior to the procedure to help minimize discomfort to the patient.
Debridement Types
There are various types of debridement procedures. Surgical debridement may be done if a patient is suffering from inflammation of the wound. Mechanical debridement may initiate healing by irrigating the wound or applying a wet dressing. A wet dressing dries overnight, is remoistened and then removed. The dressing pulls away wound debris. Autolytic debridement is a type of dressing that retains fluids within the patient's body to help flush out the wound. Biological debridement uses the larvae of Lucilia sericata, or the green bottle fly, to digest necrotic tissue.

Debridement Complications
While complications from debridement are rare, they do occur. Debridement can sometimes result in delayed healing, infection, the loss of healthy tissue with mechanical debridement and bleeding of the wound area. After a debridement procedure has been done, it's important to assess the patient's wound for swelling, redness, discharge, excessive bleeding, a change in coloration of the wound (turning white, blue or black) and increase in pain levels, particularly to the level that pain medication doesn't work or relieves pain poorly.