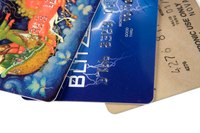 Credit cards are a popular payment option for all types of purchases, giving users the ability to finance large purchases and making payment more convenient and secure than using cash. For merchants and credit-card companies, credit-card transactions fall into several different categories based on the type of account and the nature of the purchase.
Authorization
When a merchant creates an authorization transaction with a customer's credit card, she is essentially asking the credit-card issuer if the customer's account has a certain amount of available credit. An authorization allows the merchant to settle the transaction for the specified amount for 30 days, after which the authorization expires.
When merchants create authorizations, the customer's credit limit does not change. If a customer allows too many authorizations on the same account, all of which are then settled at once, he risks exceeding his credit limit.
Authorization and Capture
An authorization and capture is the most common type of credit-card transaction. It includes both an authorization followed immediately by a settlement of the given amount. This lowers the customer's available credit and sets the money aside for the merchant.
An authorization and capture based on an authorization that was completed within the past 30 days, but not at the time of the settlement, is known as a prior authorization and capture. Merchants create this transaction by referring to the original authorization's transaction ID.
Capture Only
Like a prior authorization and capture, a capture only is a followup to a prior authorization transaction. However, a capture only is only created when there was some sort of problem in completing the transaction. Usually this is due to missing security information, such as the credit-card issuer's inability to verify the card holder's address or security code.
Credit
Merchants can create a credit transaction whenever they want to refund money to a customer's credit account. If done within 120 days, the credit will use the original transaction ID. Merchants can only apply a credit to a transaction that has been settled, not to an authorization without capture.
An unlinked credit is a type of credit transaction that overrides either the 120-day time limit or is not based on a prior settlement. It does not need a transaction ID, and the merchant can create the unlinked credit transaction in any amount.
Void
A void is a credit-card transaction that simply voids, or invalidates, any other type of transaction. Merchants can request a void during the time lapse between submitting a transaction and the transaction's settlement.