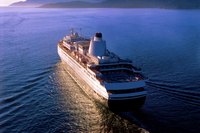 Galveston, Texas, has a world-class port on the Gulf of Mexico, which connects cruise passengers to destinations throughout the Caribbean and even as far as Spain. The all-inclusive vacations on board can easily be extended into the city of Galveston itself, with plenty of entertainment before or after boarding for the open seas. Don't miss Galveston's 30 miles of beaches, the historic Strand shopping district and the replica of a tropical train forest at Moody Gardens.
Carnival Ecstasy
Carnival Cruise Lines offers journeys out of Galveston on the Ecstasy liner, in all seasons, with four-day trips to Cozumel, Mexico, and a stop in Progress, Yucatan, if you choose the five-day option. The cruises are all-inclusive, with meals and entertainment at no additional cost. The vessel has 14 decks, with a capacity for 2,600 guests to enjoy the various bars, nightclubs and amusements on board. The ship features an Internet cafe, coffee bar, high-tech video and arcade games and supervised programs for youth of all ages. A gambling casino and spa are available, with additional charges for usage.
Carnival Cruise Lines 3655 NW 87th Ave. Miami, FL 33178 800-438-6744 www.carnival.com
Carnival Conquest
The Conquest by Carnival departs from Galveston for seven-day cruises of the western Caribbean, making stops in Montego Bay, Jamaica; Grand Cayman in the Cayman Islands; and Cozumel, Mexico. For those who prefer the eastern portion of the Caribbean, Carnival also offers seven-day cruises that allow guests to enjoy Nassau and Freeport in the Bahamas and a stop in Key West, Florida, before returning to Galveston. The Conquest features the Seaside Theater for huge-screen movies, the City Sports Park with mini-golf and jogging track, the Twister water slide, a blues piano bar and special clubs for kids of all ages (including teens). Activities are all-inclusive with your cruise ticket; casino is available for additional fees.
Carnival Cruise Lines 3655 NW 87th Ave. Miami, FL 33178 800-438-6744
Royal Caribbean: Mariner of the Seas
Royal Caribbean sails from Galveston on the Mariner of the Seas, with six- and seven-night all-inclusive cruises that include stops in exotic ports like Roatan, Honduras, Belize, Cozumel, Costa Maya, Georgetown, Grand Cayman and Montego Bay, Jamaica. Specific routes vary depending on the season, with special holiday cruises in December. Expanded dining options on this ship include themed bars and lounges, a '50s style restaurant and the Vintages wine bar. Recreational facilities keep guests active with a rock climbing wall, ice skating rink and basketball court. Youth facilities are customized for all age groups.
Royal Caribbean International 1050 Caribbean Way Miami, FL 33132 www.royalcaribbean.com
Royal Caribbean: Voyager of the Seas
Royal Caribbean's Voyager of the Seas operates out of Galveston, with service to the same ports as its sister ship, the Mariner of the Seas. Voyager of the Seas was the world's largest cruise ship when it entered service in November 1999. In addition to the Caribbean destinations, this ship ventures farther than any other from Galveston, with 14-day trips to Barcelona, Spain. Stops along the way include Ponta Delgada, Azores; Malaga, Spain; and Cartagena, Spain. Facilities on board include the trademark ice skating rink and rock climbing wall, as well as a nod to the executive with business boardrooms and relaxing golf simulators.
Royal Caribbean International 1050 Caribbean Way Miami, FL 33132 www.royalcaribbean.com