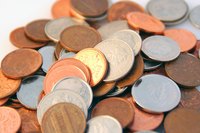 Companies need cash to fund their operations, major projects, expansion into new markets and investments. Operating profits might not be sufficient to cover liquidity needs because organizations might invest in many projects at once. They need to find additional sources of funds such as state and local governments, equity investors and lenders and hybrid equity-debt investors.
State and Local Government Subsidies
Companies may acquire funding--or save money--from state or local government programs that subsidize a particular sector or industry or offer fiscal benefits. Governments might support such initiatives to develop specific economic sectors. For example, they might give tax breaks to organizations investing in environmental programs--or reduce pollution--and subsidize employers who hire local job seekers--or build local factories. Governments might also lend directly to companies in times of economic uncertainty if banks or other lenders are unable or unwilling to provide funding.
Retained Earnings
Retained earnings are profits not distributed as dividends to investors; they are retained in the firm to fund operations, investments and expansion projects. Companies may pledge a portion of retained earnings--that is, their own capital--as collateral for loans.
Equity Issuance
Organizations get funding also by issuing stocks--or shares of ownership--in the capital markets. They may issue those shares privately to institutional investors, especially if the organization is not listed on a securities exchange. Investors who buy stocks--also called shareholders or stockholders--do not receive periodic interest payments; however, they receive dividends on a periodic basis, and make profits when the stock increases in value. Shareholders hold voting and management rights with respect to companies in which they invest. For example, they are invited to the annual shareholders meeting and may vote on management's change and compensation, merger with another firm or dividend payment.
Debt issuance
Companies may borrow by issuing bonds or other forms of debt in financial--or capital--markets. They may also borrow directly from private institutional investors such as banks, hedge funds, venture capital firms and brokerage companies. Investors who lend to entities are called bondholders. They might be paid interest on a semi-annual or annual basis; the amount lent is reimbursed at maturity--that is, the end of the holding period. They hold no voting or management right with respect to the debtor. For example, a bondholder in Company A might receive interest payments twice a year from the debtor, but will not participate in the annual shareholders meeting.
Hybrid Financing
Companies may raise funds by issuing financial instruments with debt and equity features. Such instruments are called hybrid instruments or quasi-debt. There are two types of quasi-debt: convertible bonds and preferred shares; they pay fixed dividend but do not confer voting or management right on the owner. Holders of convertible bonds may convert such bonds into equity in accordance to the bond agreement. For instance, a holder of Company A's bonds might convert such bonds into shares if the stock has increased substantially in value after a period of time.