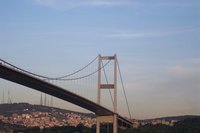 Engineers are responsible for applying math, physics and other disciplines of science to everyday problems in order to develop, design or improve products. Engineers also specialize in particular fields. Common examples are chemical engineers, electronics engineers and mechanical engineers. There is one type of engineer whose work we encounter on a daily basis—the civil engineer. Responsible for building roads, buildings and bridges, the civil engineer must use accurate measuring tools to design and improve the infrastructure we depend upon.
Vernier Calipers
Vernier calipers are a clamp-like measuring device that can measure objects in inches and millimeters. This tool is used by opening the clamp and placing the item that needs to be measured inside. The clamps are then slid shut on the item. The measurements are on the handle of the calipers. To find the measurement reading, simply look at the gap created by the item you are measuring. The handle will show how large that gap is in inches and metric units.

Laser Distance Measurer
A laser distance measurer is one of the most accurate tools that can measure distance. Laser distance measurers can be used for both horizontal and vertical distance measurements. For example, an engineer can measure the distance between two walls or the distance between the floor and ceiling by directing the laser upwards.
Wheel Measurers
Wheel measurers are a quick but slightly less efficient way to measure long distances. This tool uses a wheel attached to a long handle. As the wheel is rolled, a counter measures the distance the wheel has travelled. Wheel measurers come in several designs. The most important design variable is the size of the wheel. Small wheels are best used for smooth surfaces and for indoor measurements. Medium-sized wheels can be utilized for indoor measurements and for short outdoor measurements. Large wheels are best used for outdoor measurements since rough surfaces are less likely to affect its accuracy. Wheel measurers can be electronic or mechanical.
Measuring Tape
Measuring tape is the classic tool nearly everyone has in their tool box. This handy device uses a retractable tape that can be extended to measure the length, width, and height of almost any object. The tape usually has inch, centimeter, and millimeter measurements. Measuring tapes come with a locking device that will keep the tape from retracting when taking measurements. Unlocking the measuring tape will cause the tape to retract back into the container.