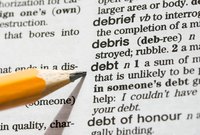 The Fair Debt Collection Practices Act (FDCPA) is a federal law that protects debtors and alleged debtors from unethical collection tactics by third-party debt collectors. Letters from collection agencies must conform to this law, which restricts the kind of language that can be used in the letter, and requires that full information about the debt be disclosed. While the FDCPA does only applies to third party collection agencies, some state laws apply similar restrictions on letters sent by the original creditor.
Initial Contact Letter
Under the FDCPA, after a debt collector first makes contact with an alleged debtor, the collector must mail a written letter, called a "validation notice", that provides the following information: The name of the original creditor, the amount the debtor allegedly owes, and how the debtor can challenge the debt if the debtor does not believe that she actually owes the debt.
False Statements & Threats
It is illegal for a debt collector to mail a letter that contains empty threats. For example, if the debtor lives in a state that does not permit the garnishment of wages to pay off a debt, a collection agency cannot threaten to garnish that debtor's wages. Similarly, the bill collector cannot threaten to sue the debtor if the collector actually has no intention of filing a lawsuit.
A collection letter cannot contain threats of violence or obscene language. Nor can it threaten a debtor with jail or suggest that the debtor has engaged in criminal activity.
Privacy
According to the FDCPA, a collection agency cannot send an alleged debtor a letter that is written or printed to appear as though it is from a government agency. Collection agencies are also forbidden from contacting debtors with a postcard. Furthermore, it is illegal for a debt collector to use an envelope that suggests that it has been sent from a collection agency. The debt collector can use its own name on the envelope, but only if the collector's name does not refer to debt collection.