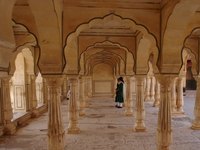 India requires all U.S. citizens to apply for a visa before going to India, regardless of the intent of the trip. Be sure to request the correct type of visa, as you cannot change visa types while in India, and you may be deported for activity not allowed by your visa.
Tourists
For a tourist visa, submit your passport (must be valid for at least six months and have two blank pages for the visa), two passport photos, a photocopy of your birth certificate, payment authorization (multiple entry for 180 days is $73, 365 days is $163, as of 2010) and driver's license. Visa processing for non-official visas has been outsourced to Travisa Outsourcing Inc.; submit your application to its Washington, D.C., office.
Business, Employment, Missionary and Entry Visas
The State Department advises all travelers to be sure to solicit the correct type of visa. Business travelers need a business visa; however, if you will be making any money while in India, you need to apply for an employment visa. Any American planning to undertake religious activities needs a missionary visa–Americans on religious trips with tourist visas have been deported. Anyone planning on staying with an Indian family or doing unpaid work should apply for an entry visa instead of a tourist visa.
Registration
If you plan to stay for more than six months, specifically request that the amount of time you plan to stay be stated on your visa. The State Department cautions that tourist visa extensions are rarely granted within India. If you are going to India to study, research, work or carry out missionary activity–or if you are a tourist staying more than 180 days–you are required to register with a Foreign Regional Registration Office within 14 days of entering the country.
Considerations
Tourists can stay up to 180 days at a time and must have a two-month break before re-entry. If you want to stay longer, request an amount of time on your visa application. If you are of Indian origin and submitting a visa application for the first time on a U.S. passport, also submit any past Indian passports.