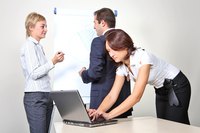 Good health and safety in the workplace can be positive for the entire company. Your company should have a qualified health and safety administrator who understands the federal laws regarding workplace safety and also has experience in creating a safe and healthy work environment.
Morale
A good health and safety program at work means that employees feel that management cares about their well-being. Offering comprehensive health insurance, an adequate amount of sick time, and a range of health services that include counseling for mental health issues and savings accounts for expenses not covered by insurance can help to raise employee morale. Higher employee morale means less unscheduled time off taken by disgruntled employees.
Productivity
A comprehensive health and safety program works with employees to help reduce accidents in the workplace, and it also works to help speed up recovery times if an accident does happen. Accident prevention through a safety program will increase employee productivity.
Retention
Employees consider health and safety to be an essential part of their employment package. A comprehensive health and safety program can be an incentive for employees to remain with the company and reduce employee turnover.
Replacement Costs
Part of a health and safety program is proper maintenance and use of company equipment. When the equipment is kept and used properly, it will last longer and cut down maintenance and replacement costs.
Better Working Conditions
A safety and health program works to keep the workplace clear of hazards such as blocked hallways that can be tripping hazards, overstocked shelves that can fall and other potential hazards. A focus on a clean workplace can reduce the spread of disease and help to improve the overall health of the company.