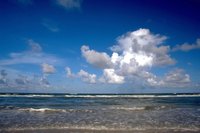 From theme parks and fresh seafood, to golfing and dancing in Miami, Florida has many attractions for the whole family. Florida is also known for its sun and beach fun, with so much of the state right on the coast of both the Gulf of Mexico and the Atlantic Ocean. All-inclusive resorts allow visitors to pay one price for food, lodging and often entertainment as well, including use of fitness centers, fishing, water sports, guided tours and golfing.
Naples Beach Hotel and Golf Club
The Naples Beach Hotel and Golf Club is located on the beaches of Naples and includes a championship golf course. Other hotel amenities include a tennis center spa, swimming pool, fitness center and four restaurants. Room amenities include flat-screen televisions, private baths, views of the beaches, Wi-Fi, refrigerator, wet bar and in-room safe. The 319 room all-inclusive resort packages include breakfast buffet, Beach Club 4 Kids, snacks and a golf clinic. Area attractions include white-sand beaches, the Everglades, swimming, fine dining, zoo, wilderness tours and airboat tours.
Naples Beach Hotel & Golf Club 851 Gulf Shore Boulevard North Naples, Florida 34102 239-261-2222 naplesbeachhotel.com/
Amelia Island Plantation
Amelia Island Plantation all-inclusive package includes lodging in your room of choice with or without ocean views and three meals a day from one of nine restaurants. Package entertainment includes tennis court reservations; green fees; golf cart; fitness center; programs for children and teens; tours, use of fishing rods and reels; pool amenities and video game consoles. Room amenities include private balconies, in-room HD televisions, a pillow top mattress, iPod docking stations, Wi-Fi, robes, coffee maker, coffee, toiletries and in-room safe. Island activities include fine dining, casual dining, night life and fishing. Hotel amenities include swimming, fishing, bicycling, nature tours, spa, golfing, shopping and yoga.
Amelia Island Plantation 6800 First Coast Highway Amelia Island, FL 32034 904-261-6161 aipfl.com
Sandpiper
Club Med's Sandpiper is a family-friendly resort located near the Saint Lucie River in southern Florida. All-inclusive resort amenities include round-trip flights; all taxes and gratuities; choice of lodging; three meals a day; snacks; drinks; activities for children; sports; and entertainment, including live bands and shows. Room amenities include rooms with views; a balcony or a terrace; in-room televisions; coffee machine, mini-fridge; in-room safe and private bath. Area attractions include swimming in the river or ocean; visiting area gardens and parks; river cruises; Hard Rock Hotel and Casino; and tours of waterways. Hotel amenities include a health and fitness center; fine dining; bars; golfing; tennis; beach volleyball and water sports.
Club Med 4500 S.E Pine Valley Street Port St. Lucie, FL 34952 772-398-5100 clubmed.us