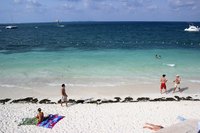 Many Americans travel to Mexico for its beaches, culture and fun towns of Cozumel, Playa del Carmen, Mexico City, Guadalajara and Cabo San Lucas. When traveling to Mexico, consider the kind of activities, weather and culture for items to include. Traveling light gives travelers the greatest flexibility, and advance planning reduces stress and mishaps.
Health Supplies
If you wear glasses, pack an extra pair. For contact lens wearers, pack contact solution and an extra pair of contacts. Stow away any medications you need as well as motion sickness pills in your carry-on luggage. Bring insect repellent for mosquitoes after rains. Create a basic first-aid kit which includes bandages, medicine for stomach relief, aspirin and disinfectant. Include products such as sun block, tanning lotion, sunburn medicine and sunglasses.
Customs Papers
To avoid problems passing through customs, bring copies of prescriptions and generic drug names, and keep medicines in original containers. If a medicine contains narcotics, include a letter from your doctor stating why you need the medicine. If you have questions about taking certain medicines into a country before travelling, contact the consulate or embassy.
Security Bags
A sturdy shoulder bag with a strap across the chest is popular for keeping personal belongings such as sunglasses and sunscreen. Avoid fanny packs, outside pockets and handbags that are easy targets for pickpockets.
Clothing and Shoes for Women
Travel light by bringing outfits that can easily mix and match. Choose a basic solid dress to coordinate with a mix-and-match blouse or a cardigan sweater. Or, create a layered look with a blouse and a cardigan. Things to take to Mexico are three pairs of pants, including a pair which goes with almost everything. Easy to pack T-shirts can be used under blouses or on their own. A white button-down shirt can be worn in the evening, and accessorize with a belt or jewelry for a new look. Jewelry, swims suits and belts do not take up much space. Add a shawl for an evening dress-up outfit. Three pairs of shoes are all you need with a pair of flats, athletic shoes and a pair of heels.
Clothing and Shoes for Men
Men's basic clothing includes a swim suit, blazer, sweater, button-down shirt, and three pairs of pants: jeans, khakis and black pants. A button-down shirt that is wrinkle-free travels the best, and repels stains. A dark navy blazer is versatile, and a pocket square adds interest. Ideas for layering include a collared shirt with a tie or a vest. Jeans worn with dark athletic shoes can be worn in the evening for a smart look and comfort. Three pairs of shoes to include are dark athletic shoes, dress shoes, and sandals.
Passports, credit cards, cash
Things to bring on a trip to Mexico are an extra copy of your passport, along with an extra set of passport photos. Store them in a separate place from the passport. These items will make it easy to replace a lost or stolen passport. Consider leaving a copy of your itinerary and passport with family and friends at home before traveling.
Take travelers' checks with a little cash. Keep the list of travelers checks separate from the original checks. While in the hotel, keep credit cards, passport or extra cash locked in the hotel safe. When carrying credit cards on your person, use a concealed pouch; and for carrying cash, use a money belt. Consider getting a pre-paid telephone calling card.
Trip Paraphernalia
Some things to take on a trip to Mexico include camera, batteries, travel alarm clock, beach bag and towel, chewing gum and flip flops. For excursions, pack a backpack for essentials of activities. Small flash light, extra memory cards for digital camera, and plastic bags for dirty laundry and leaky toiletries are things to take on a trip to Mexico.
Weather Wraps
Rainy season in Mexico is from May to October and rain gear such as an umbrella and raincoat or rain poncho may be necessary. If visiting Mexico City, you may need a jacket or sweater in winter, and a light jacket at night in the summer. Asthmatics take precaution while traveling to Mexico City from mid-November to January during the heaviest pollution period.