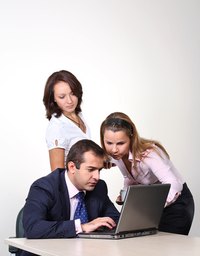 Generating complaints from employees and colleagues is easy. All you have to do is schedule a meeting, and everyone will begin heaving long-suffering sighs in no time. This is because your employees and colleagues have been trained to think of meetings as a waste of time. You can cheer them up by demonstrating what they can do with effective meetings.
Save Time
That may be hard to believe in a culture where people have come to think of meetings as a waste of time. An effective meeting, however, is just the opposite. Just imagine how long it would take to get a group of, say, 10 people to resolve conflict and make a decision if you had to approach each one separately. As wonderful as email is, it isn't a substitute for face-time when face-time is needed.
Avoid Confusion
Once you have your 10 decision-makers in a room, it will be very easy for them to get off-track. Ten of your most intelligent colleagues are likely bursting with ideas and potential solutions to hundreds of problems. In order to keep them from confusing themselves and each other with such a wonderful store of ideas, you must help them stay on task. Keeping focus will help them avoid confusion and make the meeting productive.
Accomplish Goals
That's why you want to have a meeting in the first place, isn't it–to accomplish something? Keep your colleagues and employees from getting sidetracked and wasting time, and you will find that your meetings seem to automatically become productive. Your 10 people will come together and solve a problem, reach an agreement or develop a plan of action.
Save Money
Just because your employees are in the room doesn't mean you're getting your money's worth out of them. If you can take a meeting that is traditionally two hours long, when it only needs to take 30 minutes, then you are no longer paying for an hour and a half of meeting you don't actually need. What's more -- they don't feel their time has been wasted. Everyone wins.
Boost Morale
If employees don't feel that their time is wasted (or that they're getting free down time), and they realize they've accomplished something, then they will feel good. People like to feel good. When something makes them feel good, they want to do it again. An effective meeting that allows employees to make a difference can become a tool for positive reinforcement.