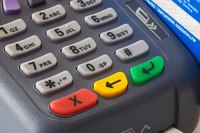 The shift in the economic climate has led to more and more business owners needing to accept electronic forms of payment such as credit and debit cards. Acceptance of cards has both benefits and drawbacks. One definite benefit is the fact that, with fewer people carrying cash, accepting credit and debit cards increases a merchant's customer base. Another is that customers using cards instead of cash tend to spend more per transaction.One drawback is that accepting credit cards costs money for each transaction, and merchants have to pay merchant account fees.
Those costs are offset in part by lower costs of handling and counting cash, as well as the cost of transporting cash to the bank.
Set Monthly Fees
In order for a merchant to accept credit and debit cards, it must first set up an account with a merchant processor or acquirer. That acquirer provides a means by which the merchant is able to transmit its transactions to MasterCard and Visa who then send them along to the appropriate issuing banks who then provide payment to the merchant. The acquirers typically charge each merchant a monthly maintenance fee for having an account. This fee can range anywhere from a few dollars to $40 a month or more. In addition, a merchant may also have a monthly minimum that it must process. If it do not process the minimum amount they will be charged another fee.
Another potential monthly fee that a merchant may be faced with is equipment rental, if it rents or leases terminals from its acquirer, rather than purchasing them outright.

Interchange—or the Cost of Doing Business
Every credit card transaction that a merchant processes must pass through Visa or MasterCard or other networks in order to be paid. Depending upon how the merchant processes the transaction, MasterCard and Visa will charge a specific percentage of each transaction to the merchant. This percentage is known as the interchange rate, which is a major component of the discount rate that is passed on to the merchant. This rate can be impacted by things such as what kind of card the customer presented, whether the merchant was able to "swipe" the card through the terminal reader or had to key in the information, and whether the amount that was authorized and the amount that was settled were the same. Certain types of cards, such as rewards cards, cost more money to accept, and certain ways of processing those cards are more expensive.
Debit transactions are generally far less expensive than credit transactions.

Transaction Fees
In addition to the other fees, merchants also must pay certain per-transaction fees. Many processors will charge an authorization fee for each transaction. Typically a nominal amount, this transaction fee is the same regardless of the dollar value of the transaction. Many merchants accept PIN debit as well as credit payments, and each PIN debit transaction is subject to specific PIN debit fees, which are also a set amount rather than a percentage of the transaction's dollar amount.
Some transactions fail to include all of the information that is needed when they are processed or have some other issue when being processed. This causes those transactions to become what is known in the industry as a billback. Each billback is subject to an additional fee as well.

Other Fees
There are other events that can cost a merchant money when accepting credit and debit payments. If a cardholder disputes a transaction for any reason, the merchant can be faced with a chargeback. A chargeback effectively returns the money from the merchant back to the cardholder without the merchant having any say in the transaction. Most acquirers will charge a merchant an additional fee for each chargeback.
Despite all of these fees, merchants generally stand to increase their business and their overall profits by accepting credit payments.