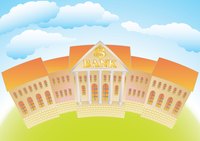 Whether you are seeking a mortgage, auto loan or personal loan, a bank tends to be one of the most popular options consumers turn to for their borrowing needs. While there are pros and cons associated with obtaining a loan from any type of lending institution, banks tend to offer some advantages that may put these financial organizations above the rest, including lower interest rates, various types of loans, safety and security.
Interest Rates
Banks are diversified institutions that are involved in more than just offering checking and savings accounts; this allows many banks to offer lower loan interest rates than other institutions. Since the bank's portfolio is diversified, its assets are not as much at risk if a borrower defaults because it can offset the loss with one of its other assets. In comparison, an auto loan financing company only deals in auto loans so it tends to charge higher interest rates because it has all of its money in one risk pocket—auto loans.
Variety
Another benefit of a bank loan is that banks tend to offer different types of loans. You can typically obtain a mortgage, auto, business or personal loan at a bank. Other lending institutions tend to focus on only one type of loan. In essence, when you need almost any type of loan, you can turn to a bank for your financing needs.
Safety and Security
Banks also tend to offer consumers a higher sense of safety and security. Banks typically have branches that have been involved in communities for a number of years. Bank deposits are insured by the Federal Deposit Insurance Corporation (FDIC), and bank portfolios are diversified, all of which makes banks a safer and more secure lending institution than many other types of lenders. You may also feel more secure that you can walk into your local bank branch, talk to your lender face-to-face and even make a loan payment. While some customers do not mind mailing payments online or via regular mail, or resolving a customer service loan issue over the phone, others feel more comfortable with the face-to-face interaction with their lending institutions, and many banks permit this type of interaction.