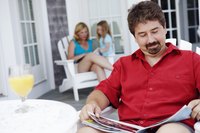 Magazine advertising can be highly effective if it is used appropriately. One of the most important aspects of magazine advertising is to know what you want to accomplish from the ad. For example, if you own a mail order company, you may want to elicit orders directly from your magazine ad. A large corporation's goal may be to get people into the store to try their products. Whatever the case, there are certain strategies in which the advertiser must be cognizant when placing a magazine advertisement.
Select the Right Target
An advertiser should ask for a media kit before advertising in a magazine. The media kit will provide you with circulation figures, the price of various classified and display ads and, most importantly, key demographics of the readers. The demographics will usually tell you the average age, income and even education level of the magazine's readers. If you are marketing wrinkle cream in major retail establishments, you want to advertise in magazines that appeal to women over 30 or 35 years old.
Use Strong Headlines
The goal of any advertising headline is to grab the attention of the reader, according to advertising expert Noel Peeble's article "How to Write Headlines That Could Make You A Fortune!" at Ideamarketers.com. There are many pages in a magazine. You only have a few seconds to attract the reader to your advertisement. It is best to use a headline that asks a question, solves a problem or makes a strong statement about satisfying a need. A couple examples, respectively, would be: "Can't Get Rid Of Your Wrinkles?" or "Amazing New Cream Eliminates Wrinkles Fast!" Once you have the readers' attention, you can use sub headlines to further explain your product and draw the readers into your ad.
Choose the Right Size Ad
You do not necessarily need a full-page magazine ad to promote your products or service. A half-page or even quarter-page ad may be adequate to elicit leads for your business. Full-page ads are expensive. Try testing a smaller display ad and determine how much response you get. Next, place an ad that is slightly larger. If you are directing people to a website or 800 line, track the hits or calls from each ad. Determine your cost per inquiry for each ad. For example, if you placed a display ad that costs $400 and got 40 responses, your cost per inquiry would be $10. Go with the ad size that elicits the lowest cost per inquiry--as long as it pulls an adequate amount of responses from which to profit.
Run the Ad Consistently
Your advertising campaign cannot survive on one ad. Many readers will wait until they see your ad several times before responding. Readers want to make sure you are a stable company that is not going to put up the "For Sale" sign the next day. The lead time for most magazines is at least a month or more. Once you ensure that you are profiting from your ad, run the ad monthly in the magazine.
Increase the Number of Ads
If you are pulling in business with one magazine, test some display ads in other like magazines. Continue to throw a percentage of your profits back into advertising and build your successful magazine advertising campaign gradually. Also consider running a couple versions of a display ad in the same magazine. However, make sure you test each ad first.