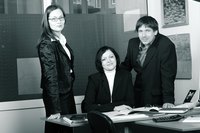 An executive chairman, also called chairman of the board or chief executive officer, is the highest official member of a group. The chairman may be an official in charge of a corporate board of directors or an elected officer leading meetings of a club or civic organization.
According to Peter F. Drucker in "The Wall Street Journal," an executive chairman or CEO is the person who defines the difference an organization makes in society.
Crafting Strategy
The executive in charge of an organization leads and guides the other members in setting policies for the effective operation of the business or group. He commands a view of the inside of the organization, which is focused on details like cost and operations as well as the world outside of the organization.
According to Vanderbilt University Owen Graduate School of Management, crafting a strategy to successfully achieve the organization's goals is a fundamental duty of the chief executive.

Team Building
Once the chairman establishes an organization's success strategy it is time to get ready to implement it. This requires a motivated and well trained management team. The task sounds a lot easier than it is.
Successful executive chairmen need to motivate the leadership staff to understand and execute the activities of the organization. They need to be able to react to changes in conditions and to adjust the plan of action accordingly.
According to University of Iowa Human Resource Management, a leader uses his skills to create trust and flexibility in his team. Building trust, understanding individual team members' strengths and weaknesses, and building strong bonds between team members can empower the management team to ensure positive results.

Communicating the Vision
The executive chairman is like a great cheerleader. In a speech to the Stanford University Graduate School of Business, Richard Fairbank, Chief Executive of Capital One Financial Corporation, stated that a successful chief executive must have and communicate passion for his organization.
Communicating the organization's ideals, products, or programs with passion engages the emotions of the people he interacts with. Staff, board members, clients, and potential contributors need to see and understand that passion. The executive chairman is the organization's public face and the mirror that his staff sees themselves in.