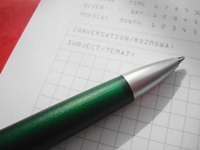 Inventory consists of all tangible assets for sale through a business. This also includes all raw products for manufacturing businesses. Accurate and regular inventory counts are important aspects of running a business. It's important for a business to know accurately how much inventory they have on hand. It's also important for generating precise financial records which indicate the state of a business.
Inventory Methods
Businesses must first decide which inventory method they will use. The method used accounts for all inventory sold. There are several to choose from, including actual cost, FIFO (first in first out), LIFO (last in first out), and weighted average. Businesses such as car dealers use actual cost inventory. This means that each car sold is matched with the actual cost paid for it in determining profit. This method is used only for large specific sales like cars, boats, etc. FIFO is the most common method for accounting for inventory. This method bases accounting for sold inventory on the assumption that the first inventory in was the first inventory sold. This example works well when compared to dairy products. The first milk a store buys is ideally the first milk they sell. This is why when a new shipment of milk comes in it goes behind the milk already there. LIFO assumes the opposite scenario. The last inventory in is the first inventory sold. Weighted average simply averages the entire amount of inventory to find the cost of it.
Annual Physical Count
Generally accepted accounting principles (GAAP) require all businesses to take a physical count of all inventories once a year. This on-hand count is usually taken around the end of the company's fiscal year. This count is mandatory by GAAP so that businesses report an accurate and clear image of the company's financial state. When this inventory count is done, the company verifies and updates all balances in their computer system. When an actual physical count is done, it rarely matches the balances shown in the system. There are inconsistencies in the inventory amounts shown in computer system versus the actual count due to goods damaged, misplaced and stolen.
Strategy for Physical Count
A strategy is implemented for a physical inventory account in a business. It is not something that is decided one day and carried out the next. A good plan is essential for an accurate inventory count. Many businesses opt to close their business for a specified period of time while the count is being done. Other businesses do it in sections. A large retailer often chooses to spread the inventory count over a year and each month do one particular section. Once a strategy is implemented, the business decides when to do it, and the plan is executed.