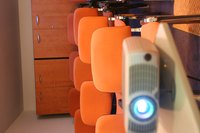 Many times professionals need to make presentations, including those related to accounting. Presentations can be about budgets, actual versus budget reports, accounting processes, policies and procedures regarding accounting and financial statements. Accounting presentations can be done to teach a class, to show a new budget or to explain an income statement.
Overhead Projector
Use an overhead projector when making accounting presentations. It's much easier to see the numbers and issues rather than to listen to someone talk about them. If you're talking about spreadsheets, show the spreadsheet on the projector, if you're dealing with a report, such as a line in the income statement, show it clearly. Use color to better identify numbers, red to highlight important numbers or to indicate a negative number. Be consistent with the colors to avoid confusion.
Handouts
Provide your audience with handouts, including copies of any slides used. Make sure that your name and contact information is available in the handout in case of questions or comments later on. If your presentation is about an income statement, for example, give audience examples of income statements. Using print screens of accounting information is a good idea--it's always easy to follow accounting data when we can see it clearly.
Charts
Try to use charts whenever possible. Visual aids do help in understanding accounting information. You could use a pie-chart to show how a budget in allocated among departments, for example. A graph type of chart could be used to compare net income by years, comparing and allowing for trend analysis.