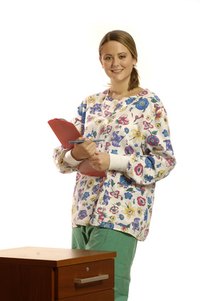 As more and more of the aging population needs health care services, the home health care industry will be in greater demand. To market and promote a home health care business so potential customers think of you when the need arises, you can certainly use traditional advertising, but it can also be helpful to think outside-the-box and implement creative marketing strategies such as those outlined below.
Partner with Related Businesses
Older patients need a variety of services ranging from the geriatric doctors who care for them to the transportation services that ferry them back and forth to doctor appointments. Align your home health care business with other businesses that cater to the senior audience. Meet with doctors, transportation service providers, etc., and create a referral program or process to help each other succeed. You can "share" business by placing business cards in each other's offices, authoring articles for each other's newsletters, providing testimonials for marketing collateral or sending out a referral letter to each other's subscriber lists.
Become an Information Mogul
As a home health care expert, share your knowledge of the healthcare industry with your potential customers and referral sources. The best way to do this is to author articles that address pressing healthcare issues. Writing these articles helps you build credibility and position yourself as an expert in the healthcare field. You can publish these articles yourself online using your website or blog, or you can submit them to article directories. You can have partners use your articles in newsletters and information they send out to their client lists. By providing information about your business in a resource box at the bottom of your article, you can drive traffic to your website or get your phone ringing.
Be a Public Relations Magnet
A multitude of health publications seek experts to interview and quote. Use websites such as Help a Reporter Out (HARO) to monitor requests from writers, journalists and publications related to your business. When you're quoted in an article as a home health care provider or a journalist mentions your business in print, it's an affirmation for current customers that they made the right choice by working with you and it helps attract new customers. Public relations is similar to putting a third-party stamp of approval on your business; seeing your name in print sends out a positive message. Focus on medical and health publications, so either the readers themselves or people they know are your target audience.