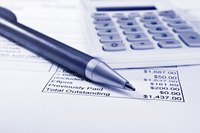 Kentucky law generally favors creditors over debtors. In 2013, the National Consumer Law Center gave Kentucky one of only four "F's" when it graded states on their exemption laws that protect income and possessions from debt collectors. Despite that, there are a few ways to challenge a wage garnishment.
Being Served
Most creditors, except the government, must file a lawsuit and win a judgment against you before they can garnish your wages. When a creditor sues you in court, you must be served with a summons and a complaint, either by registered return-receipt mail or in person by a sheriff's deputy. If you don't remember being served, you can challenge the garnishment. Go to the county clerk where the garnishment was filed and request a copy of your case file to review the summons and complaint paperwork. The documentation must prove you were served the paperwork.
Off-Limits Income
You might be able to challenge a garnishment based on the type or amount of income you have. Some types of income are off-limits to creditors, including most benefits for pensions, veteran's and Social Security income. When you exclude this type of income, your weekly take-home pay must be more than 30 times the minimum wage for a creditor to garnish your wages. For example, in 2015, your garnishable take-home pay had to be more than $217.50 per week ($7.25 per hour times 30).
Maximum Garnishment
If your net pay is more than 30 times the minimum wage, a creditor can only garnish the excess up to a maximum of one-quarter of your take-home pay. For example, if you take home $250 per week, the maximum is $250 minus $217.50, or $37.50 per week. If it's $300, the most a garnishment can claim is one-quarter, or $75 per week. If you have two creditors trying to garnish your wages, and the first creditor takes 25 percent, the second can't take anything until you've paid the first.
Filing a Challenge
You can challenge a wage garnishment if you file an Affidavit to Challenge Garnishment with the Circuit Court Clerk in the county in which you live. After you file, any garnishment will temporarily stop until you have a hearing in front of a judge. Bring all relevant documentation you need to support your challenge to the hearing, such as earnings statements or proof of your signature or address if you weren't served the proper documents.