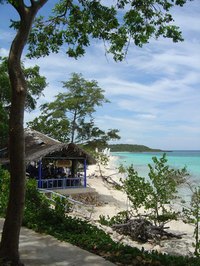 Cuba is the largest Caribbean island in terms of size and population, with approximately 11 million people. Despite its proximity to the U.S., it's the one least known to Americans. In 1959, when Fidel Castro took over, he shuttered all the casinos and hotels and booting Americans out. The American embargo made Cuba off-limits to U.S. citizens. But since then, European business groups have worked with Cuba to build gorgeous beach resorts along its white, sandy shores. The U.S. government now only allows relatives of Cubans to visit each year, and there are murmurings that the travel embargo may be lifted soon.
Paradisus Rio de Oro Resort & Spa
This Sol Melia flagship hotel sits above a low, rocky cliff overlooking Playa Esmeralda. The hotel grounds are spectacular: lush, meticulously landscaped gardens, private sitting areas and hammocks for resting. The hotel faces the sea, which contains one of the most beautiful coral reefs on the island.
This 5-star hotel is adults-only and all-inclusive. The 292 rooms include standard and junior suite casitas or bungalows. Each room has a balcony with a view of the gardens, a large bathroom, and separate sitting areas.
There are five different restaurants, four bars, a nightly show, two outdoor pools, three lit, outdoor tennis courts, a gym, Jacuzzi, sauna, watersports, bikes, a game room and massage services.
Paradisus Río de Oro Resort & Spa Playa Esmeralda Carretera, Guardalavaca Holguín, Cuba Tel: (+53)-24-430090/430094 solmeliacuba.com

Iberostar Varadero
You will find the best beach in the Caribbean at Iberostar Varadero. It is nicknamed Playa Azul, which means Blue Beach. The water there is not only peaceful, it is bathtub-warm and of course, very blue.
The hotel has 386 rooms in 11 three-story buildings. All have air conditioning, hair dryers, telephone with direct line, and satellite television. Activities include six bars, four restaurants, a disco, mini-club, four pools and a jacuzzi, a spa with a gym, sauna, massage and hydro-massage, and a daycare center. Many recreational activities are available, including billiards, volleyball, tennis, windsurfing, kayaking, water polo, aerobics, exercise, dance classes (Cuban and Caribbean rhythms), diving lessons in the pool and open sea, water skiing, horseback riding, bowling, golf, and nightly entertainment with live music.
Iberostar Varadero Carretera Las Morlas km 16 Sector Punta Hicacos Varadero, Cuba Tel.: (+53)-45-669-999 iberostar.com/EN/Varadero-hotels/Iberostar-Varadero_3_79/Situation_1006.html

Sol Rio de Luna y Mares
This is a big, 4-star hotel located directly on the Playa Esmeralda at Holguin, on Cuba's east coast. The complex includes two formerly separate Sol Meliá properties, both on the Playa Esmeralda. The Río de Luna and the Río de Mares are now sister hotels, offering guests at either one use of the facilities at both. Both hotels sit inside the beautiful, stately gardens of the Parque Marítimo Bahía de Navajo.
The hotel has 464 rooms and suites, each one with a balcony or a terrace. Furnished with a rustic decor, all the rooms have telephones, televisions, mini bars, air conditioning and a personal safe.
For food and entertainment, there are four restaurants, two snack bars, four bars, a dance club, nightly shows, two outdoor pools, two lit outdoor tennis courts, gym, Jacuzzi, sauna, watersports, bikes, a children's center and programs, massage services, and babysitting. Many families take advantage of the child-friendly amenities.
Sol Rio de Luna y Mares Playa Esmeralda Carretera Gurdalavaca
Holguin, 70, Cuba
Tel: (+53)-24-430060 Toll Free: (+1)-800-336-3542 solmeliacuba.ca/hotel/sol-riodelunaymares