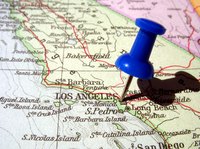 The swingers lifestyle is alive and well in Los Angeles. The city offers a good selection of private parties and clubs that host meet and greet events. Both newcomers and veterans of the lifestyle are sure to find a swingers event in Los Angeles that will suit their preferences.
The Toy Box
The Toy Box is a private swingers club that requires an annual membership with dues. An application must be approved by the club in order to gain membership. Upon acceptance, The Toy Box will inform its members of the club's private location. A reservation is always required to gain entry into the club. Members must call in advance to place a reservation. A buffet and soft drinks are provided but alcoholic drinks are not. Members are asked to bring their own alcoholic beverages. Cups, ice and mixers are provided. Prospective members that are couples or single women must be at least 21 years old, and prospective single men must be at least 28. Dress code is casual but no stained or ripped clothing is allowed. Women are allowed to wear lingerie. The club offers common areas as well as private rooms, spa, dance pole, dance floor and lockers. Cell phones or recording devices are not allowed inside the club.
The Toy Box 951-760-5668 thetoyboxclub.com
Playful Encounters
Playful Encounters swingers club is located in the North Hollywood area of Los Angeles. The club hosts biweekly meet and greet events on Thursdays for swingers. The events are designed to introduce newcomers to the swinger lifestyle. The club features a fully stocked bar, waitresses and music entertainment. Playful Encounters requires an annual membership with dues. Upon acceptance of application, the location of the club is provided. An RSVP is required for every event. Sex is not allowed at events but other discreet physical interaction is welcomed. Prospective members must be 21 years or older. The dress code for men is casual, which means no shorts, t-shirts or sandals. Women may wear revealing clothes or lingerie. Single men are not allowed but single women are welcome.
Playful Encounters playfulencounters.com
Catz Events
Catz Events produces swinger lifestyle events around the Los Angeles area, which are hosted in trendy settings. Most events take place in downtown Los Angeles but other nearby locations may also be used. The company offers meet and greet events on a monthly basis for newcomers to the swingers' lifestyle. Pool parties are also scheduled throughout summer. The events are relaxed and include dancing. An online subscription is required in order to be added to the mailing list. Subscription members receive information about upcoming events, including location, contact information and any costs that may be associated with the events.
Catz Events catzeventsonline.com