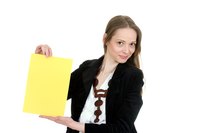 One piece of marketing material, which may be produced in large volume, is the promotional flyer. Promotional flyers are used to announce a new business, bring in your current patrons or expand your customer base. When designing a promotional flyer, the message should be clear and easy to understand. Think of it as the written equivalent to advertising on television--trying to reach a large and diverse audience.
Don't Be Cheesy
Brand your company with your flyer. Aid your reader in knowing who your company is just by looking at the flyer. Use the colors and logo that are included in other marketing material for your company. If you change these items for the flyer, it will serve to confuse the customer. By keeping your standard company branding, a loyal customer will recognize the theme of the flyer and expects to see information familiar to your company. Using unusual fonts and styles can make the flyer appear too busy or difficult to read, and lose it's appeal to customers.
Photography
Keep in mind that "a picture is worth a thousand words" when choosing the photographs for your flyer. Using high quality photography on your brochure will attract the customer. If the only cameras you own are outdated with low resolutions below three megapixels, consider other options for your pictures. Your company may either purchase a new camera, hire someone to take the photographs with a higher resolution camera or purchase stock photography from another company.
Size Matters
You want to grab the attention of your reader right away. This is especially true if your flyer is located where it will compete with other companies' flyers, such as bulletin boards or stacks in the front of a store. Use large font in the headline to convey your main poin. Include at least one big photograph to grab the potential customers' attention. Small graphics may be hard to see from a distance, and might not be cost effective.
Invite Your Readers To Take Action
A well-composed promotional flyer will invite your potential customer to take action according to Ictmag.com. Actions range from attending an event, such as a grand opening, to redeeming a coupon on the flyer for a discount at your store. After the potential customer reads your brochure, the message and action expected should be clear. You want to make a return on your investment for producing those flyers, and confusing the customer will limit that opportunity.