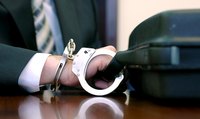 Insurance is a business that's built entirely on risk and possibility. For instance, when you buy insurance it's because you think you might need it. Insurance companies will offer you certain rates that reflect how likely it is that they'll have to pay out on you. Insurance companies will judge you on a variety of risks.
Clients With Unhealthy Lifestyles
One risk that an insurance company takes is on a client's lifestyle. For instance, let's say that a person wants health insurance, and that person eats well, has a clean bill of health and regularly exercises. They aren't as high a risk as other people. If a person smokes regularly, for instance, or he works as an alligator wrestler, there's a significantly higher chance that person will cash in on his insurance, and thus cost the insurance company money.
Clients Who Live in High-Crime Areas
Another risk that an insurance company would take on a client is where that client lives. Some areas of the country just have higher crime rates, occurrences of health problems and percentages of accidents. If a company sells insurance in these areas then it's taking a higher risk because the chances are higher that customers who live in those areas will call in a claim. On the other hand certain areas will be lower risks for certain possibilities (rural Ohio has a lesser chance of burglary than downtown Los Angeles, for instance), and as such insurance risks are lower catering to that area.
Clients With Flashy Property
Insurance companies also take a lot of risk when they insure certain types of property. For instance, it's a lot more likely that a fiery red sports car is going to be stolen than a older, less-expensive vehicle. Also, insurance companies can cover property such as big-screen TVs, expensive jewelry and antique firearms, but the company knows that if that property gets stolen that it will be out money. As such insurance companies will offer lower rates for property that's a lower risk and which isn't worth as much so that if something does happen to it (stolen, destroyed, etc.) the insurance company will be out much less money.