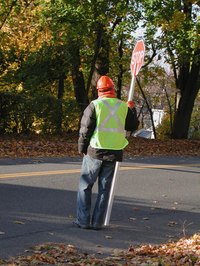 While different occupations come with different hazards and require different precautions, it is one of the primary duties of management to ensure that safety procedures and policies are in place for staff in their workplace. This means a standard operating procedure (SOP) for the safe execution of each task. While standard operating procedures for safety can cover anything from military security to construction to office typing, there are several SOPs which reach across many occupations.
Personal Protective Equipment
Standard operating procedures involving situations where the operator can be injured due to flying debris, gas or loose parts should include portions dedicated to Personal Protective Equipment (PPE). There are many types of PPE spanning several work sectors: A warehouse demanding heavy lifting by its employees requires the use of back-support braces; a dental hygienist is required to use safety glasses when cleaning teeth. SOP for personal protective equipment should stand independently, even when integrated into the operating procedure for the performance of another task. The language should be "step by step" and include any possible exceptions and whom to talk to if the safety equipment is faulty or not available.
Dangerous Equipment
Safety SOPs should be drawn up for the use of any equipment that could potentially harm people or property. These types of machines include devices from the exotic (e.g. laser cutters, emergency mountain climbing gear and guns) to the mundane (industrial cooking equipment, forklifts etc). Putting a standard operating procedure together for a task involving dangerous equipment is more detailed than for PPE. The University of Nebraska-Lincoln states that all standard operating procedures for performing a task should include "the purpose and frequency of doing a task, who will do the task, a description of the procedure to be performed that includes all the steps involved, and the corrective actions to be taken if the task is performed incorrectly."
Workplace Chemicals
Chemicals are used in virtually every workplace, either in the daily routine of manufacturing, or later during the daily cleaning and maintenance process. While most of these chemicals would not look out of place underneath a home kitchen sink, nearly all carry the possibility of injury or contamination when misused. Material Safety Data Sheets (MSDS) are fact sheets that explain the properties, dangers and proper handling procedures for chemicals in the workplace. Standard operating procedures should be implemented concerning the handling of these chemicals, including a step-by-step reading of a sample MSDS sheet.