Strapless dresses are popular for cocktail parties and semi-formal functions. Though strapless dresses vary by color and material, the shape and structure of the dress are uniform. Therefore, some general guidelines for accessories apply to all strapless dresses. The goal of strapless dress accessories is to highlight areas of exposed skin without adding distracting features to the outfit.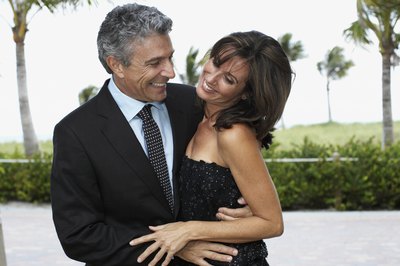 Necklaces
The signature feature of a strapless dress is an exposed, uninterrupted neck and shoulder line. Necklaces should be delicate and draw attention to the exposed shoulders. Chokers sit tightly against the base of the neck, leaving the space between the necklace and the top of the dress bare. Chokers are a good option for people with long necks, but they can make a short neck look even shorter. Pendant necklaces that include a thin chain with a metal or stone pendant accent the collar bones and draw the eyes toward the center of the dress. Y-shaped necklaces feature a chain that meets in the middle part of the chest and then continues downward in a single chain, sometimes with a small stone at the end. Y-necklaces elongate the neck without overpowering exposed skin with a large stone or gem.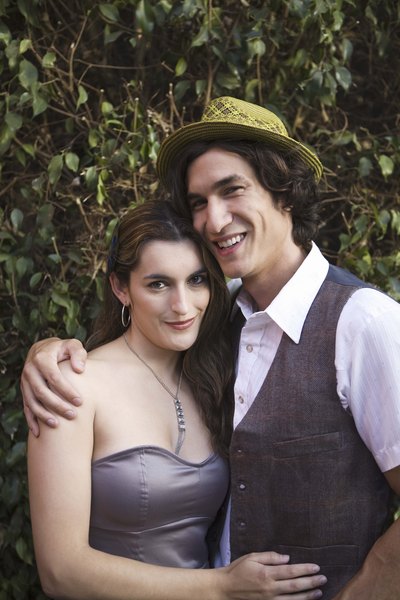 Earrings
Though stud earrings are a standard in accessorizing, long earrings that hang to the jaw line elongate an exposed neck while eliminating the need for a necklace. Chandelier earrings begin wide and then taper into a more delicate shape near the jaw. Dangle earrings often feature several thin strands of metal chains or small gems that end near the jawline. Chandelier and dangle earrings draw attention to the neck and shoulders exposed by a strapless dress.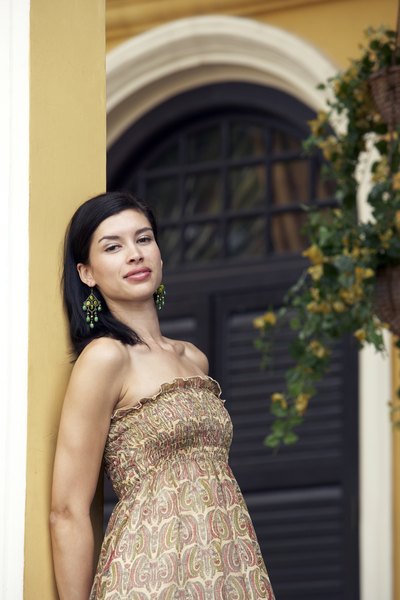 Shoes
The length of the strapless dress determines the style of shoe to wear. Both long and short strapless dresses typically pair well with thin-heeled shoes. For long dresses, a sling-back heel with a strap that hooks around the back of the foot is preferable because no one will see the detail of the back of the shoe. A peep-toe shoe with gemstone detailing will add sparkle to a long strapless dress because the front of the shoe peeks out below the bottom of the dress. For shorter strapless dresses, a heel with a strap that wraps around the ankle adds length to the leg and visual interest to the entire outfit.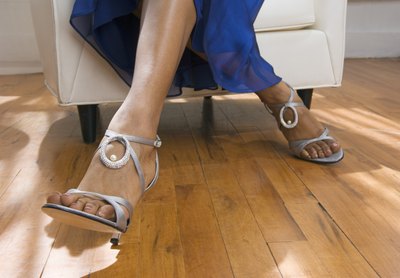 Other Accessories
You can further accessorize a strapless dress with practical items like shrugs and shawls for warmth. A simple shawl that hangs over the shoulders and drapes over the arms is elegant and functional. Strapless dresses pair well with clutches or small hand purses that do not have a shoulder strap.