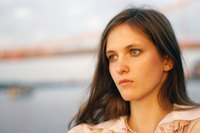 Low morale is contagious and can plague the workplace by spreading from one employee to the next. According to InTech, managers should not ignore low morale because its effects can be devastating to the office. Companies rely on employees to propel the business forward. However, projects, assignments and work-related tasks might remain stagnant when the work force has low morale. InTech explains that unsatisfied employees lead to less productivity. Additionally, low morale can make for an unhealthy organizational culture.
Productivity
An article in Supervision magazine makes an argument that low morale and employee productivity have a clear connection. When employees don't feel valued by their supervisors, don't like where they work, wish they worked somewhere else and generally don't care about their projects and assignments anymore, their productivity may plummet. Low morale causes employees to lose interest in going the extra mile.
Organizational Culture
According to an article in Roberts Wesleyan College's online journal The Leading Edge, morale makes up the spirit of a person or group. Signs of positive morale include cheerfulness, smiles and laughter. The opposite, however, is true for low morale. In the workplace, low morale makes an office seem gloomy and has a negative impact on the organizational culture. When a group of employees has low morale, their behaviors, perspectives and attitudes can influence and alter the organizational culture.
Absenteeism
The Leading Edge article also says low employee morale can have a high price tag. When employees feel dissatisfied at work or discontent with their bosses, the level of absenteeism increases. According to an article in Business Horizons, employees who have low morale exhibit a higher frequency of being absent from the workplace because they do not feel as committed to or as invested in their jobs. Dissatisfied workers crave an escape from their offices, even if those escapes are only temporary. In turn, businesses pay a high price for low morale. With more absenteeism comes less productivity. Less productivity means wasted time.