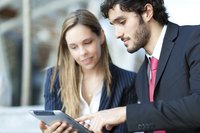 Today, men and women work together more frequently and more closely than ever before. As traditional male-dominated business models diminish, a dynamic workplace emerges where women and men have the same goals and equal chances at management and supervisory positions. While the workplace benefits from this equality, there are still many tips and codes of conduct to be aware of, and it is important not to let gender communication issues in the workplace interfere with effective management.
Name Calling
In a workplace environment, familiarity is often inevitable since employees spend so much time with each other. In these situations, friendships can form, jokes can be shared and reputations can crystallize. One of the side effects of this process is familiar language like name calling. This can take on the form of the generic "honey" or "darlin'" and sometimes can even relate to a person's personality or physical features. These sorts of names should be avoided at all costs. A man calling a woman "honey" (especially if that woman is his superior in the workplace) may not be intended to offend, but the term "honey" itself can diminish the woman's independence in the workplace because of its stereotypical undertone. According to Linda Carli of Wellesley College, "A number of studies have revealed that both men and women exert greater influence when communicating in a gender-stereotypical manner."
Awareness and Understanding
Men and women are not the same. While this is true, this fact should not be translated to mean men are better at business than women or that women think more clearly than men. Differences between people of any gender (or race) in the workplace should be measured on an individual level and respected as facets of a person's identity. According to Hodu.com, "Understanding that differences are desirable and arbitrary, not right or wrong, will diminish the majority of communication problems."
Expression of Power
One area in which men and women typically have problems is how they express their power. The expression of power can be more biological than behavioral and this can be troublesome to control. According to Linda Carli at Wellesley College, "Men more than women, for example, display high levels of visual dominance which is associated with power and status and is measured as the ratio of the amount of time that people maintain eye contact while talking to the amount of time they maintain eye contact while listening to others." This is in contrast to women's perceived role as "more communal" and "democratic." This does not mean that men are more powerful, only that they display their power more visually, or that all women need be democratic in their management style to maintain authority over men. A healthy respect for nature can help balance this perspective and allow men and women the same amount of authority when taking a management position.