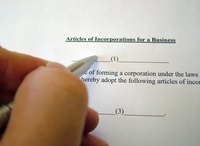 A limited liability company (LLC) is like a sole proprietorship or a partnership rather than a corporation. LLCs are easier to form than corporations and can be created in any state for a fee. The Internal Revenue Service taxes an LLC like a partnership or sole proprietorship, which means that the owner of the LLC must report profits and losses annually on his personal 1040 tax form. Some states charge more than others for forming an LLC and tax the LLC separately from the IRS.
Prepare for your LLC registration
Decide upon a name for your company. A second choice for your company name will be needed if the first choice has been taken. Be flexible in making slight changes to your chosen name to register it. A person in the Secretary of State's office will search to see whether your requested name is available. This search can be performed in some states on their government website. Research the local, state or federal licenses required to operate an LLC. Designate a registered agent, often the owner of the LLC, but always a person with a legal street address that can be used for the mailing and receiving of tax records or any other legal transactions for the LLC.
Prepare for Payment
Fee payment must be made when you register your LLC. Most states accept a credit card or credit/debit card number. The payment does not have to be from the registered agent. Consult the Secretary of State's office in the state in which the LLC is being registered to learn the amount of the required initial payment.
File Articles
Prepare and file your articles with your state's LLC filing office, usually the Secretary of State's office. Some states use the term "articles of organization" or "certificate of organization" or "certificate of formation." The process of filing, the costs and taxation vary from state to state, so it will help you to know beforehand what your state requires in payment. The process itself is simple and requires only filling out a short form. In many states this can be completed online.