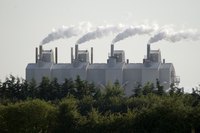 High capital requirements can serve as barriers to entry in certain industries, such as automotive, airlines, or ship building. This means that someone who wants to start a business and compete in an industry that has high capital requirements must acquire a lot of capital before they can succeed. Capital in this sense means useful assets or the cash required to acquire and maintain assets or staff.
Automotive
Few new car companies can hope to capture a significant share of the market without exceptional financial backing. Companies requiring factories, franchised sales dealerships or skilled labor forces are examples of the types of organizations that would require high capital investment up front. For example, Fisker Automotive, an electric vehicle start-up company, bought the GM Boxwood plant in Delaware in 2009 for $18 million.
Airline
Airlines need airplanes. The cheapest Boeing 737 jet costs more than $50M. Even if a new airline acquires a jet, it would need customers almost immediately to offset the costs of financing its jet and paying for skilled pilots, maintenance crew, and jet fuel.
Medical Devices
A medical device start-up company usually begins with a technology, proves its safety and efficacy and then sells out to a larger company. To compete with an established company of size would incur the huge but less-than-obvious capital requirement of a sales force. Health care providers purchase from skilled, educated and insightful representatives that they trust, and the army of sales reps needed to generate revenues for a major medical device company is a major capital requirement.
Pharmaceutical
Pharmaceutical companies are becoming less risky in the amount of capital they will commit to research and development of new drugs, but they are a good historic example of a business model where intense capital requirements in research were required to generate new drugs and new revenue.
Ship Building
Building a ship takes dry docks, cranes big enough to lift buildings and industrial equipment of epic proportion. Like aircraft construction, this is an industry where governments will subsidize the hefty capital requirements to assure that at least one company under their control will be able to purchase or replace their equipment as needed to survive.