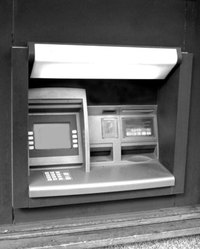 All financial institutions that operate automated teller machines in the United States are required by the Federal Reserve to post signs alerting customers to important information that may affect them. These laws are regularly changed and updated as the Federal Reserve deems necessary. As of 2010, these are the signage laws that are in effect.
Regulation E: Disclosure of Fees
The Federal Reserve carries out the Electronic Funds Transfer Act, established in 1978, through this regulation, which establishes that the financial institution providing the funds must disclose to the customer any fees that are assessed when funds are dispensed. The exact amount of the fee must be noted. This must be displayed directly on the screen or somewhere on the body of the ATM.
Address and Phone Number Requirements
Financial institutions are also required to list directly on the ATM the address and the contact phone number of the institution in case the customer has any problems with a transaction. Additionally, the financial institution should post on the screen the customer's liability for unauthorized transactions, the maximum amount allowed to be withdrawn, the customer's right to receive documentation about electronic transfers and the customer's right to stop payment of electronic transfers.
Changes to the Law
In 2005, slight changes were made to the original law about disclosure of fees. An ATM now must clarify the rules to explain circumstances under which fees are not charged. The institutions do not have to post a sign that no fee will be charged, but they must detail transactions that are exempt from charges, such as some transactions on foreign banks or transactions for balance inquiries.