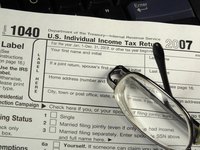 Property tax is the amount of money specified by the government that you must pay for owned property. This amount can differ by state or county, and depends on the item in question. Property tax is divided into categories based on the type of property, and then subcategories under what the property is used for. It could be paid with regular yearly taxes, upon receiving or selling a property or on a scheduled basis.
Real Property
Real property is defined as any property physically on or attached to land. It cannot be easily moved. Types include commercial buildings, offices and homes. Real property also includes objects found on real property that are a part of it such as wells or ponds.
Personal Tangible and Intangible Property
Personal property is broken into two groups: tangible and intangible. Tangible is anything that can be easily moved, but is yours and has a physical presence. It could be jewelry, cars, boats or animals with a high value like cattle or a race horse. Intangible represents those things that have value but cannot be touched such as stocks, bonds, certificates and copyrights.
Estate and Inheritance Tax
These represent the money you must pay when you inherit a property, item or money upon someone's death or a person's incapability to handle the property do to mental deficiency. With inheritance tax, you pay a portion of the estimated value of the item. Estate tax is usually where all of the items of the individual are turned over to you or perhaps more then one person. In this case, tax is estimated on everything included in the estate and then divided between you and the others who received a part of the estate.
Gift Tax
When someone gives you a "gift" of high value, depending on your state or county, you may have to pay a fee. This could be an expensive piece of jewelry, a home, car, basically anything the previous owner or organization would normally have to declare on their taxes. Items won through game shows or contests also have a tax value.