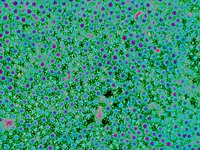 Lyme disease is an inflammatory, bacteria-based disease that deer ticks spread through biting individuals. The symptoms of this disease can sometimes mimic those of amyotrophic lateral sclerosis (ALS), also known as Lou Gehrig's disease, which is a progressive, degenerative disease that attacks brain neurons responsible for controlling muscle movements. There are several ways to distinguish the symptoms of these two diseases from one another.
Rash
According to the Centers for Disease Control and Prevention (CDC), approximately 70 to 80 percent of Lyme disease sufferers develop a rash within three to 30 days of an infectious tick bite. This rash, known as erythema migrans or EM, is typically circular in shape and can reach up to 12 inches in diameter. Oftentimes the center of this rash is clear, giving it a bull's-eye-like appearance. In comparison, ALS does not typically produce lesions, rashes or any other skin disruptions or discolorations.
Fatigue
During the same timeframe in which rashes develop, Lyme disease sufferers may experience symptoms of fatigue, as well as headaches, chills, fever and swollen lymph nodes. According to the National Institute of Neurological Disorders and Stroke (NINDS), while ALS causes fatigue in its sufferers, it generally starts out as an isolated feeling of weakness in a particular area of the body, which then spreads and intensifies as the disease progresses. This is different from the all-encompassing, temporary feelings of fatigue that occur with Lyme disease, which will eventually disappear—after treatment—along with other symptoms.
Muscle Complications
Both Lyme disease and ALS can cause muscle complications, such as stiffness and spasms. According to the CDC, some sufferers of Lyme disease may develop Bell's (or facial) palsy, wherein muscles on one or both sides of the face lose their strength and tone. Another common Lyme disease symptom is stiffness in the neck. Similarly, early symptoms of ALS can include muscle stiffness, cramping and twitching. These problems can affect arms, legs and even the face, where they can make it difficult for sufferers to chew, swallow and speak. In comparison to the muscle complications that Lyme disease can cause, the muscle complications associated with ALS will eventually spread to the rest of the body and grow progressively more severe.
Joint Pain
Lyme disease sufferers who do not receive treatment may eventually develop intermittent episodes of arthritis, which can include intense joint pain and swelling. In most cases, large joints such as the knees are the hardest hit. In comparison, early symptoms of ALS can include joint complications, but these usually affect the hands and do not so much cause pain as they do impair an individual's manual dexterity.