Tuna sushi, vegetable tempura and rice noodles are just a few items found on the menus of Japanese restaurants. However, as restaurateurs know, the quality of food is just one aspect of a successful restaurant. The interior design should be harmonious with the type of cuisine. In the case of a Japanese restaurant, then, diners should feel like they can almost see a torii gate in the distance.
Paper Lanterns
Paper lanterns are an inexpensive method to add culture and color to the restaurant. These lights come in a variety of shapes and colors. Choose squares, stars, oval or circular lanterns. Pick just one lantern shape to keep the look consistent. Select colors based on the mood you wish to set in the restaurant: Opt for bright, cheerful colors of pink, green and tan for a young crowd. Choose modern colors of red, black and white if the theme is a dark, intimate restaurant.
Cluster the lanterns together for a luminous chandelier-type light fixture. If you wish to keep the lighting dim, choose dark-colored lanterns placed sporadically throughout the restaurant.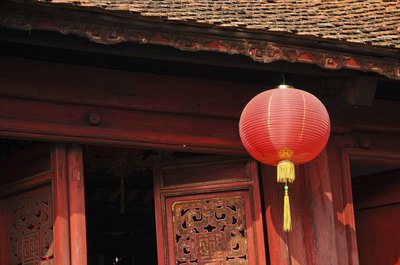 Waterfall
Motoko Jitsukawa, author of "Contemporary Japanese Restaurant Design," explains that installed waterfalls replicate the feeling of being in an Asian resort. Jitsukawa also explains if your restaurant is in the heart of a hectic city, the tranquility of a waterfall transports diners away from their busy lives for the duration of the dining experience. Installing a waterfall may be cost-prohibitive, but the enhanced ambiance could be a worthy trade-off.
Add waterfalls along stone-lined walls or behind a wall of glass. Place the waterfall in the entrance of the restaurant near the host stand or near the well-lit sushi bar. In both of these locations, the waterfall is within the focal point of the diner.
Shoji Screen Dividers
Shoji screens afford diners privacy while also maintaining Japanese culture. Regina S. Barbaran and Joseph Durocher state in their book, "Successful Restaurant Design," that shoji screens can divide the restaurant and bar area. Place these screens near the bathroom area to separate diners from those waiting in line to use the facilities. Shoji screens are also useful because of their portability: Walls can be formed or removed as needed.
Bamboo Centerpiece
Add elements of Japanese nature by using bamboo. Bamboo plants are hearty, requiring little water or light which is appealing for restaurant owners looking to cut costs on flowers. This makes bamboo plants an ideal centerpiece. Place the shoots in a glass vase with water. Because centerpieces should not obstruct eye contact between diners, ensure the shoots remain short enough by trimming them periodically.