A chemistry lab provides many opportunities for hands-on learning. But it's also a place that has many potential hazards. Glass equipment, caustic chemicals and Bunsen burners with their open flames are just a few of the dangers. You can keep the dangers at bay, however, with some safety precautions.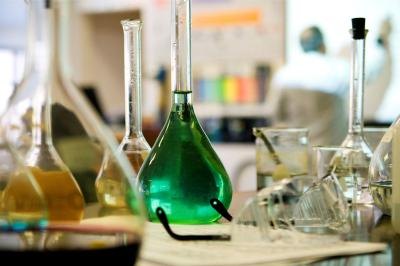 (Ingram Publishing/Ingram Publishing/Getty Images)
Safety goggles are a must for working in the chemistry lab, as are several other precautions. Never wear contact lenses because chemicals, or even their fumes, can seep into the eye and collect beneath the lenses. Wear closed-toe shoes, long pants and keep long hair tied back and away from your face, especially during experiments using an open flame. Steer clear of dangling jewelry, scarves, baggy vests or other accessories or clothing that can get caught. Always wash your hands after each experiment and refrain from rubbing your eyes, face, mouth or any other body parts after touching any chemicals. Rubber or cotton gloves are often needed as well.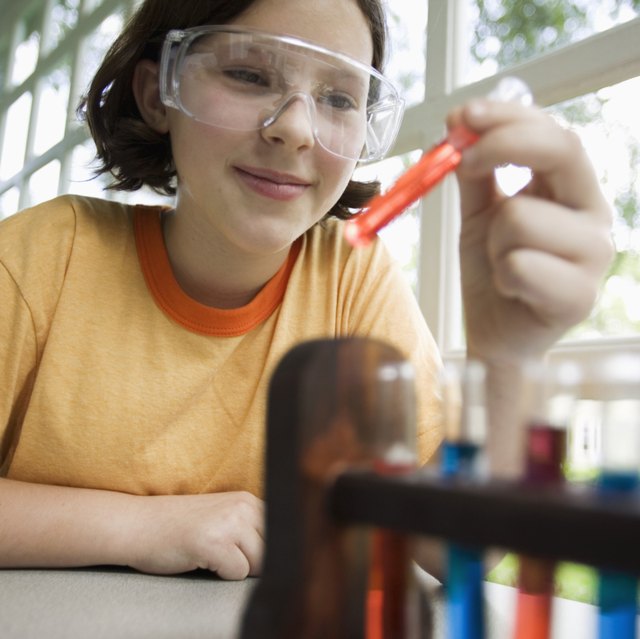 Fuse/Fuse/Getty Images
Personal safety needs to be coupled with safe behavior in the lab. Never eat, drink or chew gum in a chemistry lab and especially don't use any lab containers for food. Likewise, never taste any chemicals and never inhale a whiff directly from the containers. If you need to smell a particular chemical, wave your hand over the container to waft the scent towards your nose. Store all bulky bags, coats and other personal items away from your work station. Beware that some chemicals can ruin your personal belongings.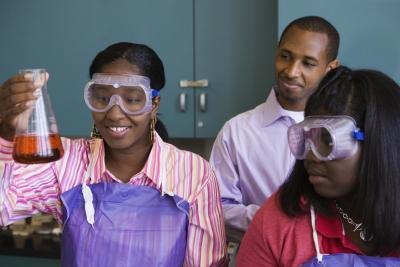 Hill Street Studios/Harmik Nazarian/Blend Images/Getty Images
Even if you are working with chemicals that seem harmless, go into every experiment as if the chemicals are hazardous and treat them accordingly. Know what chemicals you are working with and double check all labels before working with them. If you have chemicals left over, do not put them back into their main container but rather dispose of them in waste containers. Don't flush anything but water down the sink. Note that many chemicals are highly flammable so use extreme caution around open flame.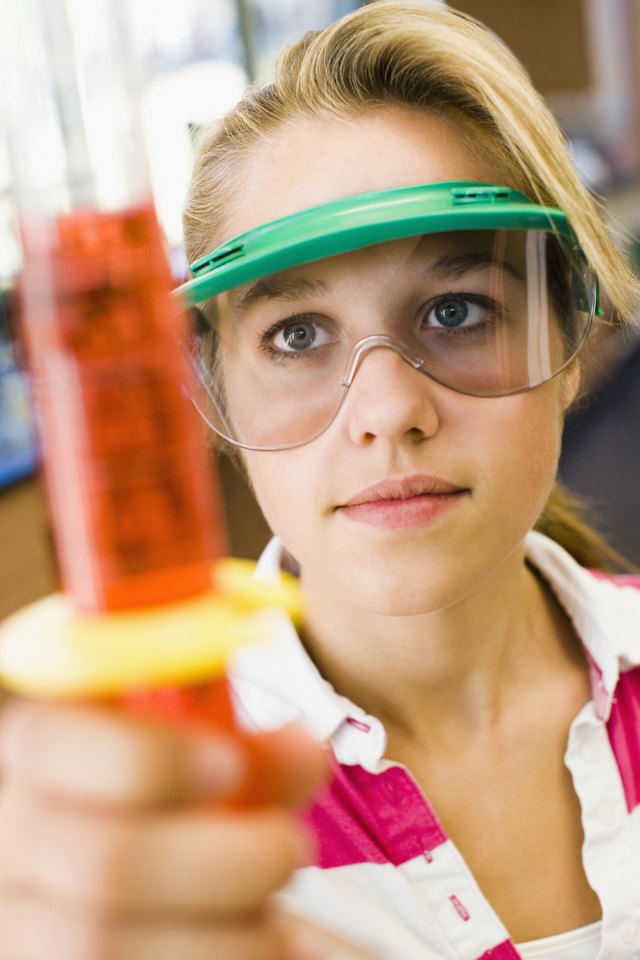 Purestock/Purestock/Getty Images
Keep your work station clean, free of debris and use caution with the equipment. Glass equipment can shatter or break, so make sure all glass is free of chips or cracks and never submerge hot glass in cold water. If you are putting glassware into rubber stoppers, first lubricate the glassware and wear cotton gloves or use a towel between your hand and the glass. When heating any test tubes, make sure the opening is not aimed in anyone's direction. Some chemicals can erupt from the tube. Never use dirty equipment and never leave your work station unattended, especially if you have a burner going. When finished, leave your work station as clean as you found it. Shut off any gas valves and water faucets. Let equipment cool down, then clean it and return it to its storage location.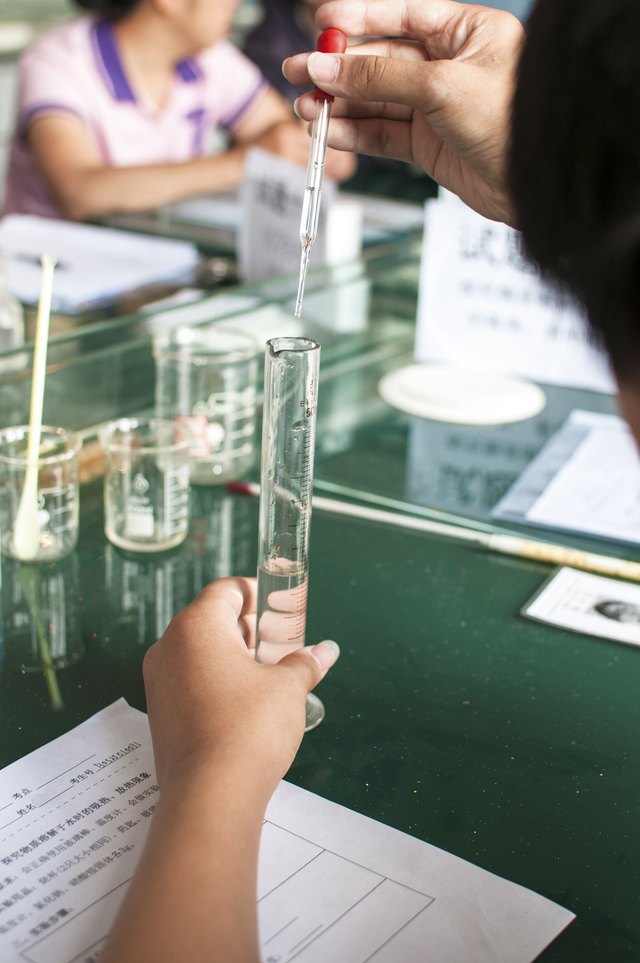 LeeJianbing/iStock/Getty Images
If a dangerous situation does occur, contact your instructor immediately and be aware of any safety equipment in the lab. Many labs have eyewash stations where you can flush chemicals out of your eyes. Rinse your eye with the fresh water for at least 20 minutes if affected. Other lab safety equipment includes a safety shower, spill kits, fire blanket, fire extinguisher and a first aid kit. Make a note of the emergency equipment's locations and how to use them. Also note the fire alarm and exits in case you ever need to use either.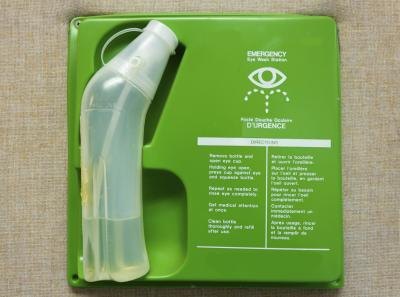 bigjohn36/iStock/Getty Images
Promoted By Zergnet