Your honeymoon is one of the most memorable vacations you and your spouse will share. It is the official beginning of your life as a married couple and family. However, after all the costs of a wedding, many newlyweds cannot afford to go on an elaborate, expensive honeymoon. Couples looking to save a bit of money and still have an amazing vacation have a variety of options for inexpensive honeymoon packages in the U.S.
All-Inclusive Cruises
Hundreds of cruises leave from the U.S. each year en route to other U.S. destinations, the Caribbean, or just about anywhere around the world. Cruising is a great way to save money, as all your meals and room costs are included with your cruise ticket. Couples can find cruise deals as low as $100 a day per person, or sometimes even less.
To save money, be flexible and ready to go on short notice. Many cruise ships sell discounted tickets a few weeks before a cruise is scheduled to leave if the ship is not full; they would rather get you on board at discounted rates than have an empty ship. You can also find deals through discount cruise websites, such as vacationstogo.com or cruise.com. The packages and prices vary, but the idea remains the same: spend a romantic honeymoon with your spouse on board an all-inclusive cruise ship for relatively little money.
New York City
New York City is a great destination any time of year, though it gets quite cold in the winter months. New York New York Tours offers a variety of vacation packages for couples in New York City. Packages include hotel costs, meals, tickets to popular NYC attractions like the Empire State Building and Statue of Liberty, and guided bus tours of the city. The packages are flexible; go for a quick overnight trip or stay for a week or more.
New York New York Tours 7 West 63rd Street, Suite 981W New York, NY 10023 212-873-5199 nynytours.com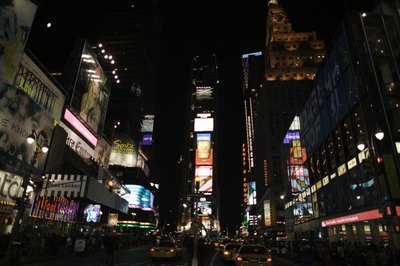 Napa Valley
The Gaia Hotel in Napa Valley, California offers a special honeymoon package for couples looking to visit California's wine country on their honeymoon. The package includes champagne and roses in your king room, and even spa services. During your honeymoon, you can cruise the Napa countryside, visit local vineyards, or take a road trip to nearby San Francisco, about 90 minutes away. Airfare is not included in this package, which is cheaper than most honeymoons at around $150 a day per person.
Gaia Napa Valley Hotel and Spa 3600 Broadway Street American Canyon, CA 94503 888-798-3777 gaianapavalleyhotel.com
Tips for Inexpensive Honeymoons
Travel to popular destinations during the off season to ensure lower rates and smaller crowds. For example, travel to beach destinations during the spring and summer when the weather is nice in most places throughout the country. Travel to ski towns during the summer months as well; you won't be able to hit the slopes, but you can enjoy breathtaking views and lots of outdoor activities. Most importantly, you can take advantage of significantly reduced rates at luxury hotels, spas, and restaurants. Also, travel somewhere close to home to save money on airfare. If you can drive there, spend a few extra hours in the car making life plans with your spouse while saving hundreds of dollars in airfare costs.