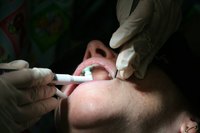 Dental hygienists are most often employed to clean patients' teeth by removing plaque and tartar from them. The hygienist may also teach patients about overall dental care and instruct them in proper brushing and flossing techniques. In most states, a dental hygienist must be certified. Some states require dental hygienists to complete a specific certificate program, which may include some college coursework.
Anatomy
The Bureau of Labor Statistics reports that schools offering degree programs for dental hygienists typically require students to take at least one human anatomy course. Anatomy courses offer a comprehensive review of the structure and physiology of the human body. A thorough study in anatomy allows dental hygienists to recognize the signs and symptoms associated with the teeth and gums that can be linked to certain illnesses and diseases.
Chemistry and Mathematics
Dental hygienists often work with chemicals and other substances needed to clean and treat the teeth and gums. Due to the nature of this work, most schools and certificate programs require a dental hygienist to complete courses in both chemistry and mathematics. These studies will prepare the dental hygienist for work involved in mixing, combining, and storing different combinations of various chemical substances that are used in the dentist's office.
Nutrition
Proper care of the teeth and gums is inextricably linked with a dental patient's diet and nutritional intake. Therefore, it is important for a dental hygienist to understand the link between proper nutrition and the overall health of the teeth and gums. The Bureau of Labor Statistics reports that many dental hygienist programs require students to take classes in nutrition, which may include instruction on teaching patients how to eat healthily while avoiding foods and beverages that can cause cavities and plaque buildup.
Periodontology
Periodontology is the study of the gums, and most schools will require a dental hygienist to take at least one course in this area. The dental hygienist is responsible for cleaning the teeth and conducting examinations of the teeth along the gum line. She may be the first one to notice the development of gum disease like gingivitis or periodontitis. The American Academy of Periodontology says that untreated or undiagnosed gum disease can lead to eventual tooth loss. The signs and symptoms of other illnesses and conditions in the body may also be evident in the mouth and gums.