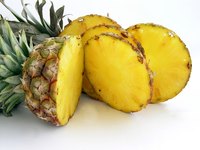 Tropical fruits not only taste good, they provide nutritional benefits. Some of the most widely available tropical fruits are coconuts, bananas, grapefruit, kiwis, limes, mangoes, pineapple, guava and papaya. Adding these and other fruits to your diet will benefit your health.
Reduce Chronic Disease Risk
Tropical fruits are high in vitamins, minerals, fiber and phytochemicals (non-nutritive but biologically necessary plant chemicals such as beta carotene). Most tropical fruits contain vitamin C and vitamin A, both shown to reduce risk of cancer and heart disease. According a peer-reviewed study conducted at Cornell University, consumption of fruits is associated with reduced risk of chronic diseases, including cardiovascular disease and cancer.
Regulate Digestion
Pectin, a soluble dietary fiber shown to reduced cholesterol levels, is found in the rinds of many tropical fruits, including kiwi, guava and passion fruit. Fiber is important to help maintain the health of your digestive tract and proper bowel function. Additionally, fiber helps sate appetite, creates a "full" feeling when consumed and is recognized as a tool in controlling weight.
Prevent Free Radical Damage
Tropical fruits, like most fruits, are high in antioxidants. Antioxidants help to neutralize the free radicals that form during the normal process of oxidation that takes place continuously as your body metabolizes oxygen. Free radicals can damage healthy cells and have been shown to promote cancerous growths, asthma attacks, heart disease, and hardening and plaque build-up in the arteries. Free radicals also contribute to joint pain and arthritis inflammation.