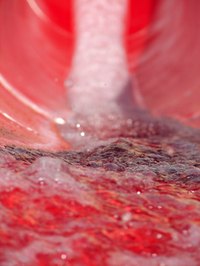 Washington is in the Pacific Northwest region of the United States and offers opportunities for swimming activities at water parks throughout the state. Some of the water parks in Washington are indoors, due to the cold climate during the winter seasons. Washington also has a few hotels that have water parks on the hotel property, which makes it convenient for tourists who are visiting the state for recreational purposes.
Great Wolf Lodge Grand Mound
The indoor water park at Great Wolf Lodge Grand Mound in Centralia features three swimming pools, six water slides, and indoor and outdoor whirlpool tubs. The large structure, Fort Mackenzie, is four stories tall and features slides and bridges. Amenities at Great Wolf Lodge includes a spa that offers facial treatments and massage therapies, meeting rooms for seminars and an on-site restaurant, Loose Moose Cottage, that serves breakfast and dinner buffets. Each guest suite includes a living room area with satellite television and sofa bed, queen-sized bed and private balcony. Some suites include a kids-themed room with bunk beds and a Nintendo video game system.
Great Wolf Lodge Grand Mound 20500 Old Highway 99 SW Centralia, WA 98531 877-407-6297 greatwolf.com
Ramada Spokane Airport & Indoor Waterpark
Ramada Spokane Airport is a five-minute drive from Spokane International Airport and provides guests with water activities at its indoor water park. This water park includes an indoor swimming pool, whirlpool tub and a 108-foot water slide. The slide is open from September through May and guests must be four feet or taller to use it. Other amenities at this hotel include an exercise room, complimentary shuttle service to the airport, business center with fax services and on-site restaurants, Remingtons and Solarium, which serve breakfast, lunch and dinner. Each guest room includes satellite television, microwave and refrigerator. Some suites include a whirlpool tub and private balcony.
Ramada Spokane Airport & Indoor Waterpark 8909 W. Airport Drive Spokane, WA 99224 509-838-5211 ramada.com
Holiday Inn Express & Suites
Located in Hayden Idaho, Holiday Inn Express is an approximate 20-minute drive east of Washington state and is adjacent to the Triple Play Fun Park, which includes Rapter Reef indoor water park. Raptor Reef features three slide rides, wave pool, the children's "Aqua Play" area and whirlpool tubs. The park also has facilities for special events and birthday parties. Holiday Inn Express and Triple Play are connected to each other by a heated sky bridge. Amenities at the hotel include four passes to the Raptor Reef, exercise center and a complimentary continental breakfast. The 96 guest rooms include a satellite television with DVD player, microwave and refrigerator. Some suites include a whirlpool tub and living room area with fireplace.
Holiday Inn Express & Suites 151 W. Orchard Hayden, ID 83835 800-720-4207 holidayinn.com