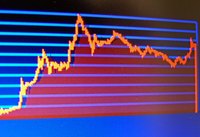 Every country has certain days when its major public institutions are closed. In Australia, the stock market either closes or closes early on many holidays throughout the year. Some of these holidays are celebrated worldwide, while others are unique to Australia. Stock traders and investors cannot execute orders when markets are closed on these days. The Australian market's holiday calendar changes from year to year. Easter Thursday and ANZAC Day, in particular, are not always observed.
New Year's Day
Many countries celebrate the start of the new year on Jan. 1. In Australia, all states close their trading offices on New Year's Day.
Australia Day
January 26 is a national holiday celebrated every year as "Australia Day." The day, observed since 1994, is a tribute to the native islanders and tribes that originally civilized the continent.
Easter
Easter in Australia is a five-day holiday. Easter Thursday, the Thursday before Easter, is a partial day for the stock market during some years. In other years, the market remains open all day. When the Australian exchange closes early, trading commences in the morning but the market closes at 2:10 p.m. local time. The stock market always remains closed on the following day, Good Friday, and also Easter Monday. In 2008, Easter Thursday was observed by an early closing of the stock market, but in 2009 and 2010 the market was open all day, according to the Australian Securities Exchange website, asx.com.au.
ANZAC Day
Australian and New Zealand Army Corps Day, or ANZAC Day, honors military achievements by Australia during World War I each April 25, according to the Australian War Memorial web site, awm.gov.au. The Australian stock market varies from year to year with its observance of ANZAC Day. In 2008 and 2010, the stock market was closed all day on ANZAC Day. However in 2009, the market remained open on April 25, according to the country's securities exchange website.
Queen's Birthday
The second Monday in June is usually the date for public observance of the Queen's birthday. The Australian state of Western Australia instead observes this holiday later in the year and its stock market office remains open, according to the Australian Security Exchange website. The rest of its offices close this June date.
Christmas Eve and Christmas Day
The stock market in Australia is closed for two days surrounding Christmas. Christmas Eve, Dec. 24, and Christmas Day, Dec. 25, usually result in two consecutive days of stock market closings. However, if Christmas Day falls on a weekend, the following Monday will be observed, with the stock market remaining closed.
Boxing Day
After Christmas, Boxing Day, or Proclamation Day, is a national holiday where many sporting events are held. Dec. 26 is the usual date for this holiday and the stock market is closed. If Dec. 26 falls on a weekend, the following Monday is observed instead, with the stock market remaining closed.
New Year's Eve
The last business day of the year is always observed as a public holiday. This may coincide with New Year's Eve, or could occur one or two days earlier if New Year's Eve falls on a weekend.