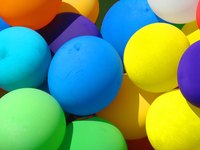 If you're stretching your household budget as far as it will go and it still doesn't cover everything you need, it may be time to start thinking about earning some extra money. That doesn't mean you have to go job hunting. You can start a business at home on a part-time or full-time basis. Keep track of the money you earn and the related expenses so at tax time you'll be prepared to report the income. Make sure you acquire any licenses necessary. Call your state, city and county to find out what's required.
Child Party Services
Many mothers work and don't have the time to arrange a memorable birthday party for their child but still want to give them a party they won't forget. Price the party per child by their age for a basic party package. A party for toddlers costs less than a party for tweens. The basic package could include two hours of party time, cake, ice cream, drinks, three games, prizes and clean-up. Add to the basic price for a longer party, more games, more food, a clown and additional decorations.
Vacation Home Care Services
Vacation services such as taking care of pets, watering plants, picking up the mail and turning home lights on and off are in demand during prime summer months and during the holidays. Let friends and family know what services you will provide. Determine a daily rate based on what others are charging and how much you'd like to earn. Count your travel time when coming up with rates.
Write Web Content
You don't have to be a published author or an experienced writer. You do have to be able to format articles correctly and write clearly. An Internet connection and computer are necessary as well. Choose several Internet-based companies that hire freelancers. Review the articles on their site to get a feel for what they want. Write sample articles before you apply.
Meal Preparation
Check with local state, city and county offices before you begin. A health certification for your kitchen and a food handler's license may be required. Prepare dinners for busy on-the-go couples and families. Dinners are delivered fresh and ready-to-reheat. Develop a menu based on your favorite recipes. Be generous with portions but keep your profit margin in mind. A portion of chicken, for example, is only about the size of a deck of cards. Your clients may feel you're being stingy if you stick with that size portion. Buy chicken on sale and increase the portion size without increasing your cost.