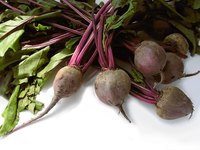 Sugar has been reviled by diet regimen after diet regimen, but its presence in our food is almost ubiquitous. Our bodies even convert foods into glucose for energy. Some fruits and vegetables have higher sugar levels than others, resulting in a sweeter taste; others are so high in sugar that they are processed to produce sweeteners that compete with cane sugar. Do not confuse sugar levels with glycemic index or load; this data point ranks a food's conversion to glucose within the human body, and can vary depending on what other foods you eat alongside a high-glycemic-index food.
Beets
According to the CDC, beets contain the highest amount of sugar among vegetables, with carrots coming in second. In fact, one variety of beet is the sugar beet, grown for processing into beet sugar. Beet sugar was discovered in the 19th century and quickly grew into an industry. While high in sugar, beets also contain significant amounts of vitamins, and according to WHFoods.com, they have been investigated as a possible cancer fighter and heart protector.
Carrots
Carrots are sweet and crunchy, and their flavor is accentuated by honey, maple syrup or brown sugar. They can be eaten raw or cooked, and are also the namesake ingredient of carrot cake. This may be a high-sugar vegetable, but it's packed with beta-carotene, which our bodies convert to vitamin A.
Dates
You'll find both fresh and dried dates, especially chunks of dates in dried fruit mixes. Dates are about 55 percent sugar, according to Practically Edible, and they are often grown for processing into date sugar. The site notes that unlike cane sugar, date sugar doesn't dissolve in liquid.
Fruit
Fruit as a whole is generally high in sugar. Apples, bananas and grapes have higher levels than other fruits; grape and apple juices and juice concentrates are used as sweeteners in other processed foods. Bananas do not start out with a high sugar content, but once you've picked them, their starches convert to sugar, giving some bananas a sugar content as high as 20 percent. Dried fruits are higher in sugar than fresh; removing the water concentrates the sugars.
Sugar-End Potato
One type of potato is especially high in sugar. In Sugar-end potatoes, sugars concentrate at the stem end of a potato due to heat stress from drought. These sugars do not convert to starch, resulting in a high-sugar potato that looks deformed. Oregon State University, the main disadvantage to these potatoes is their tendency to fry unevenly.