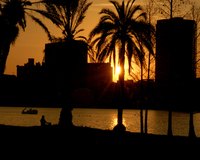 Orlando is located in Orange County, Florida in the central region of the state. The city is a popular vacation destination (it's home to Disney World) and offers a variety of nighttime entertainment options, including several night clubs that have a minimum age requirement of only 18 years of age. In recent years, the downtown area of Orlando has been re-gentrified and redeveloped into an entertainment district. Many of these 18-and-up nightclubs are found here..
Tabu
Tabu is located in the heart of downtown Orlando. The nightclub was originally built as the Beacham Theater and opened in 1920. The theater has been completely remodeled and transformed into one of Orlando's most popular night spots. Tabu features DJs from around the world blasting dance and hip hop music on a state-of-the-art sound system. The club also offers three video walls, stage shows, go-go dancers, and costumed showgirls. Tabu is open Wednesday through Sunday and the minimum age for entry is 18.
Tabu 46 North Orange Ave. Orlando, FL 32801 407-648-8363 tabunightclub.com
Cowboys
Cowboys is located in downtown Orlando's entertainment district. This country music nightclub features over 20,000 square feet of space and one of Orlando's largest hardwood dance floors. Cowboys offers free line dance lessons, specialty theme nights, and live country music. The club has a brand new light and sound system and nightly dance contests. Cowboys is open Thursday through Saturday and the minimum age of entry is 18.
Cowboys 1108 South Orange Blossom Trail Orlando, FL 32805 407-422-7115 cowboysorlando.com
Roxy
The Roxy is located in Orlando's downtown entertainment district. The nightclub has two levels and features dance music played on its state-of-the-art sound system. The Roxy also features a separate ultra-lounge, a unique hybrid of a trendy lounge and dance club. Roxy is open nightly and the club's calendar changes weekly. The minimum age for entry is 18.
Roxy 740 Bennett Road Orlando, FL 32803 407-898-4004 roxyorlando.com