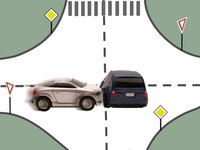 Being a victim of even a minor car accident can sometimes yield serious injuries. Some of the most common injuries associated with automobile accidents are back injuries. There is more than one type of back injury that can be induced by a vehicular collision and numerous corresponding symptoms and secondary conditions may occur with each. Some injuries may not appear or effect the victim immediately and surface days––or even weeks––after the accident. It is always recommended to visit a physician if you have been involved in an automobile accident.
Whiplash
Whiplash is one of the most common neck and back problems associated with minor car accidents. When a vehicle is struck from behind the force will throw the occupant violently forward and then again backward. This is called hyperextension and hyperflexion and tends to be most serious when a victim's head is turned sideways at the moment of impact. Whiplash can cause severe neck and back pain, muscle spasms in the upper back and neck area, and chronic pain that is increased with movement.
Herniated Disc
The impact of a vehicular collision may also cause a herniated disc in some instances. A herniated disc is essentially a section, disc, in the spinal cord that has been knocked out of place. Because the spinal cord is effectively a protective barrier for the nerves that run from the skull to the pelvis, when a herniated disc occurs nerves in the spine may become compressed. Compressed nerves in the spinal column may result in weakness, numbness, and severe lower back pain. Other symptoms of a herniated disc following an auto accident may include pain or numbness in the hip, legs, buttocks, calf, or foot.

Spinal Contusion
Spinal cord contusion, or bruising, is one of the most severe injuries associated with auto collisions. When spinal bruising takes place considerable nerve damage may occur causing loss of reflexes, loss of feeling in certain bodily areas, and temporary or permanent paralysis. Secondary afflictions of a spinal contusion may include; sexual dysfunction, decreased bladder control, and hypersensitivity in certain bodily areas.