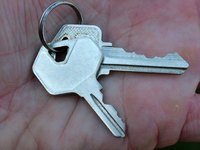 Generally a real estate agent works under the supervision a broker and receives payment in the form of commission. This makes the filing status for a real estate agent self-employed. Although earnings are based on the economy and how often the agent works, the Bureau of Labor Statistics states the annual median salary for a real estate agent was $40,150 in May 2008.
Earnings
All earnings related to real estate sales must be reported to the Internal Revenue Service (IRS) on the 1040 form. Earnings include the 1099 that an agent receives from his broker plus any additional income. Since many real estate agents own rental property for added income, this income must also be reported.
Self-Employment Tax
Being self-employed requires an agent to pay self-employment taxes. The tax rate for the self-employed is 15.3 percent. The tax breaks down into 12.4 percent for social security and 2.9 percent for Medicare. All wages are subject to the Medicare tax but only the first $106,800 of combined earnings is subject to the social security portion. A Schedule SE is used to figure earnings for self-employment.
Estimated Tax Payments
Paying estimated taxes is required if a real estate agent will owe more than $1,000 in taxes at the end of the tax year. Payments are made either bi-weekly, monthly or quarterly and are based on an estimated income for the tax year.
Deductions
The IRS allows real estate agents to take specific deductions to help lower their taxable income. The deductions include vehicle expenses, mileage expenses, advertising expenses, accounting fees, license fees, education costs and professional dues. The amount allowed for deductions is set by the IRS and may vary from year to year, so it's best to contact a real estate accountant to learn the deductions allowed each year.
Documentation
For eligible tax deductions, the IRS requires an agent to have proper documentation. This includes receipts for deductible expenses such as vehicle repair and insurance. For travel mileage, the IRS recommends keeping a daily journal showing the date, starting mileage and ending mileage for each work day.