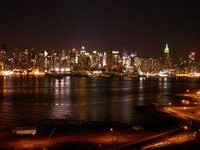 New York City has hotels that are haunted, according to stories from tourists and paranormal websites like Long Island Paranormal Investigators. The hotels, of course, are less inclined to publicize any unaccounted for guests. Revivals of ghost research and paranormal tourism, however, may prove difficult for such hotels to keep standing on their service and reputation with the living rather then the reputation of the dead.
The Algonquin Hotel
The Algonquin Hotel has been a famous meeting place for more than 100 years for the rich and famous and now perhaps the dead. Built in the heart of New York City, midtown, it is near all the famous landmarks like Times Square and Broadway. In fact it is a New York landmark itself. The hotel was constructed at the turn of the 20th century in 1902 and was frequented by famous New Yorkers. Despite alleged sightings of ghosts in its halls and bar area, the Algonquin Hotel does not boast of any haunting, perhaps because of its steady elite clientele. According to Long Island Paranormal Investigators, the hotel is haunted in the lobby by the members of the famed "Round Table." These members were a group of writers that met after World War I and are rumoured to be still meeting at this hotel.
Algonquin Hotel 59 West 44th Street New York, NY 10036 212-840-6800 Algonquinhotel.com
Chelsea Hotel
Chelsea Hotel in New York City is a world renowned residence for artists, musicians, writers, and philosophers. Situated in New York City on 23rd Street, between Seventh and Eighth avenues. It is situated close to the Empire State Building and Greenwich Village. This historic landmark was built in 1883. the hotel still welcomes guests, but caters to more long term clientele. The Chelsea does not advertise that it is haunted, like some hotels. Legend states that the ghost of deceased punk rock icon Sid Vicious, of the Sex Pistols, haunts an elevator. Dylan Thomas, Eugene O'Neill and Thomas Wolfe have been also reported to have been seen as ghosts in the hotel, according to the paranormal web site, Ghost Stories.
222 W 23rd St. New York, NY 10010 646-395-3557 Hotelchelsea.com
Brittany Hotel
The Brittany Hotel on East 10th and Broadway is no longer a hotel, but a New York University residence hall. It was built in 1929 and is near Washington Square, another place reported to be haunted. The Brittany was a speak-easy at one time and had some famously wild guests. This could explain the phantom music and lights that some guests have reported. There are also reports of ghostly sounds of footsteps and the feeling of being watched. The former old hotel now is home to 566 freshman. A paranormal website called "The Unexplainable" reports this haunting.
Brittany Hotel New York University: Brittany Residence Hall 55 East 10th St. New York, NY 10003-6150 212-995-3090 nyu.edu/life/living-at-nyu.html