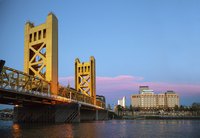 While Sacramento's historic domed Capitol building may serve as its city center, the Sacramento River is its lifeline, deemed so when famed pioneer and gold miner John Sutter settled along the waterway, effectively founding the city. Hop on a riverboat and explore the capital from a unique perspective.
Public Parties
Launching from Old Town Sacramento, Hornblower Cruises and Events offer year-round cruises down the Sacramento River. Take a ride upon Capitol Hornblower, a large yacht that accommodates up to 150 people and is outfitted with a bar, outdoor sundeck and indoor seating area with large windows. The line's most common excursion is a one-hour narrated tour detailing the city's history while providing views of such landmark attractions as the Capitol building, Tower Bridge and Air Force docks. Holiday events include a New Year's Eve trip with fireworks, a Christmas excursion with Santa and a haunted Halloween ride. The yacht may be rented for private charters as well.
Luxurious Digs
In addition to luxury automobiles, Legend Limousine and Charter rents yachts for private parties such as weddings, birthdays and bar mitzvahs. Vessels accommodate up to 550 people, and measure between 40 and 200 feet. Some yachts also include a bar, dining area, dance floor and staterooms for overnight excursions. Routes down the Sacramento River vary based on when you rent. You can also request to dock the boat near such historic attractions as the Old Governor's Mansion and Crocker Art Museum.
I Left My Heart in San Francisco
Once a month, from June to September, Delta River Cruise offers an excursion from Sacramento to San Francisco via the Sacramento River and San Joaquin Delta. Travel upon a high-speed catamaran to the San Francisco Bay, with views of the Golden Gate Bridge and Alcatraz Island. Continental breakfast and lunch is included with every cruise and a tour guide provides a narrated history of the region. The journey takes 12 hours and includes a return trip on a train.
Options Galore
Woody's River City Queen provides private charters for groups between 20 and 60 people. Sailing aboard a two-story replica paddleboat with indoor seating and an outdoor sundeck, journeys begin from the Sherwood Marina in West Sacramento and continue down the Sacramento River. Choose from a variety of themed packages, including gambling, dinner and dancing, spa and karaoke excursions. You can also choose a leisurely sightseeing tour of Sacramento's historic sites and lavish riverfront homes. Add anything from appetizers to a full meal to your trip. Cruises typically last at least three hours.