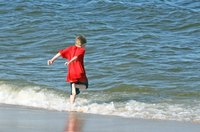 Because of its location in the northern part of New Jersey, a quick getaway to the beach is just a short drive away from Newark. With a wide range of rides, amusements, outdoor activities, restaurants, and night life, the closest beaches to Newark range from 30 to 40 minutes by car. With 127 miles of coastline in New Jersey alone, there are many local options.
Coney Island Beach
Coney Island Beach is just a 30-minute car ride from Newark, NJ, although it is actually located in the Brooklyn borough of New York City. The infamous attraction is known for its amusement park atmosphere and beach, the site of many shows, festivals, and performances. It also boasts an aquarium, circus, restaurants, and clubs.
Coney Island Surf Avenue Brooklyn, NY 11235 coneyisland.com
Keansburg
One of New Jersey's northern most beaches and closest to Newark is Keansburg, which is situated on the Raritan Bay in Monmouth County. In addition to free access to the public beach, visitors can also visit Keansburg Amusement Park and Runaway Rapids Water Park with their children.The beach also offers a clear view of the New York City skyline.
Keansburg Amusement Park Laurel Avenue Keansburg, NJ 07734 732-495-1400 keansburgamusementpark.com
Sandy Hook
Just slightly south of Keansburg is Sandy Hook, a 2,044-acre barrier peninsula located in the Atlantic Highlands on the northern tip of the Jersey Shore. Sandy Hook is part of the National Park Service (NPS)'s Gateway National Recreation Area. It is home to Fort Hancock and the oldest lighthouse in the United States, according to the Sandy Hook Foundation web site.
Vistors to the peninsula will find seven miles of ocean beaches and a variety of activities, including sunbathing, swimming, fishing, and biking. It is less than 40 minutes from Newark.
Sandy Hook Highlands, NJ 07732 sandyhookfoundationnj.org nps.gov/gate