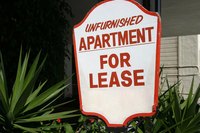 Getting renters into an apartment requires a marketing plan. The most important element of marketing an apartment is where you display the advertisement. You need to consider the type of renter you are seeking in order to pinpoint the most appropriate marketing location to draw that type of renter.
Internet
Using the Internet to market an available apartment is an ideal way to reach a wide range of potential renters. Apartment rental websites such as ForRent.com or Rent.com allow users from any location to plug in any city and view the existing vacant apartments. These sources are excellent advertising choices because you can add a series of pictures as well as a detailed description, but there is a fee associated.
You can use the Internet to market an apartment for rent without a fee, but you will sacrifice the ability to display a variety of pictures, and perhaps the number of people you can reach. One free advertising site, Craigslist.org, allows users to search for apartments by city, but you cannot display as many pictures as on websites dedicated to apartment listings.
Local Newspaper
Advertising a vacant apartment in your local newspaper is an excellent way to draw renters from the surrounding area. The benefit of this marketing technique, especially if you live in a small community, is that you are likely to get a renter whose local references you can easily check. The drawback to newspaper listings is that you cannot display pictures. In this scenario, you must be prepared to email pictures to potential renters and show the apartment often. Include as many details as possible; this will reduce the number of frivolous questions or inquiries.
Word of Mouth
Talking with your friends, family, and even coworkers about the apartment you have for rent is likely to draw the most responsible renter because you are trying to seek a familiar renter. This advertising technique may not place a renter in your vacant unit quickly, or reach a wide range of possible renters, but you are most likely to get a long-term, trustworthy tenant. You can bring up your available apartment in conversations, make calls to your friends to let them know, or reach out to your acquaintances through social websites such as LinkedIn.com or Facebook.com.